Broadcast News
06/09/2018
Sony Expands Solution Capabilities To Unlock Full Potential Of IP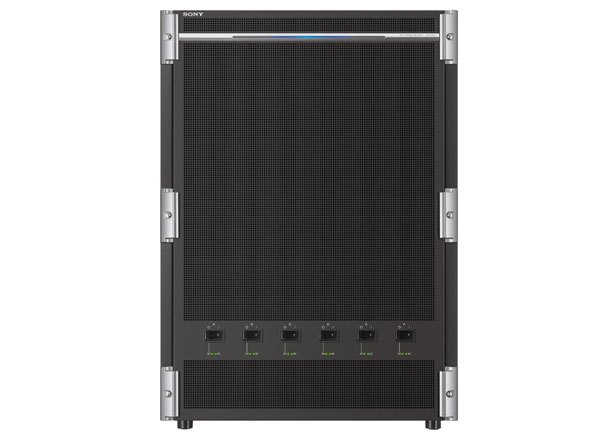 Sony has expanded the capabilities of its IP Live Production System solutions by announcing further support for SMPTE ST 2110 in both HD and 4K.
"The industry transition to IP has been driven in no small part by wide collaboration," explained Norbert Paquet, Head of Product Management, Sony Professional Solutions Europe. "Sony has been leading this journey and we continue to actively invest in shaping the IP landscape to offer customers the best systems, services and support they need to unlock IP's full potential. By enhancing our Live Production offering, with new support for SMPTE ST 2110 in both HD and 4K, we're giving our customers ecosystems and technologies they need for their future."  
New IP Interface boards with SMPTE ST 2110 compatibility in HD/4K
Sony's new XVS-9000 switcher, which launches in October, will support both IP and 12G-SDI – the same as the XVS-8000, XVS-7000 and XVS-6000. For IP Live, a series of new 100G IP interface boards will enable SMPTE ST2110 support. The HDCU-4300 camera control unit will also support SMPTE ST 2110 through the HKCU-4001 Option Board. All products will be available from January 2019 in HD and will add 4K support from May 2019 through a simple software update.  
Also, to offer customers greater choice, Sony will continue to invest in Networked Media Interface, Sony's unique IP-based transmission technology, of which transport specification has been standardised by ARIB (Association of Radio Industries and Business - an organisation that establishes standards for broadcast and telecommunications in Japan) as ARIB STD-B73 1.0.   
Sony will continue to work with AMWA to support the NMOS IS-04 and NMOS IS-05, as well as the 12G-SDI interface. Sony Live Production Systems all carry both IP and 12G-SDI interfaces.  
Global investment in Sony's IP Live Production System
As the market gears up for an IP-driven future, Sony has seen rapid global adoption of its IP Live Production System which has already proven itself to more than 30 systems around the world.  
The following companies have recently discovered the benefits of IP:  
Europe
- Portuguese commercial broadcaster SIC (Sociedade Independente de Comunicação) has appointed Sony and its partner Telefónica to deliver Portugal's first IP Live production facility in Lisbon. Representing one of the earliest large-scale IP Live deployments in Europe, the new facility will leverage the SMPTE ST 2110 suite of standards and Sony's expertise in building systems alongside key vendors.  
- France Galop, the governing body of French flat and steeplechase horse racing, has chosen Sony's IP Live Production System as part of a complete renovation of Longchamp Racecourse. The customer is now equipped with an IP Live production control room, allowing for greater flexibility and sustainability, with the entire racecourse system being managed by Sony's IP Live System Manager.  
Japan
- Mie Television Broadcasting Co Ltd has appointed Sony to build an all IP HD Production system using Sony's IP Live Solution. The system supports IP for not only key live equipment but also audio system, designed to encourage resource sharing, driving greater efficiencies and ROI. The broadcaster will be able to control several studios using the single sub system.   
- NARA TELEVISION Co Ltd is creating a new 4K/IP OB truck and IP-based studio sub system using Sony's IP Live Solution. The truck can then be easily connected at the broadcasters' current studio over IP and, once operational, the IP studio sub system can leverage the OB truck infrastructure as one large, seamless system. The new system has capability to operate remote production connecting the OB truck on the field and studios at headquarter with dedicated IP line to achieve maximum efficiency.  
China
- Topcool Media is investing in its IP infrastructure to drive greater operational efficiency collaborating with Sony on a new and advanced 4K/IP OB truck, which will be used for productions including e-sports, concerts, entertainment events and TV programs.  
- Zhejiang Broadcast & TV Group has built 4K IP OB Truck featuring 32 sets of HDC-4300 and all IP live solutions with Sony. The system supports 4K/HD simul production capability and equipped with both IP and SDI video routers.  The OB truck will be used for various live productions including OTT and social media platform, which are seeing increased demand in China.  
Similar multi-studio IP Live systems have also been adopted by broadcasters in the US.  
Go Make Tomorrow through IP
Sony will be demonstrating its latest innovations at IBC 2018, giving visitors a glimpse into how IP-enabled production workflows will enhance production efficiencies through innovative architectures. In partnership with Century Link, an IP-enabled Remote Integration (REMI) setup will connect a 4K Production Studio and Control Room at Sony's booth in Amsterdam to a remote HD production studio in Hilversum, Netherlands at Euro Media Group's facility. The hub studio at Sony's booth will control the whole system, including third party vendors, in both locations through a prototype of Orchestration System, switching video feeds using IP Live System Manager.  
Furthermore, at the JT-NM IP showcase area (located in Room E106/107), Sony's HDCU-3100 camera control unit will be demonstrated in SMPTE ST 2110 in HD and two R&D SDI/IP converters will demonstrate SMPTE ST 2110 (4K) and NMOS IS 04/05 support respectively. 
pro.sony.eu
Top Related Stories
Click here for the latest broadcast news stories.