Broadcast News
28/08/2015
LEADER Instruments To Provide Support For IP Live Production System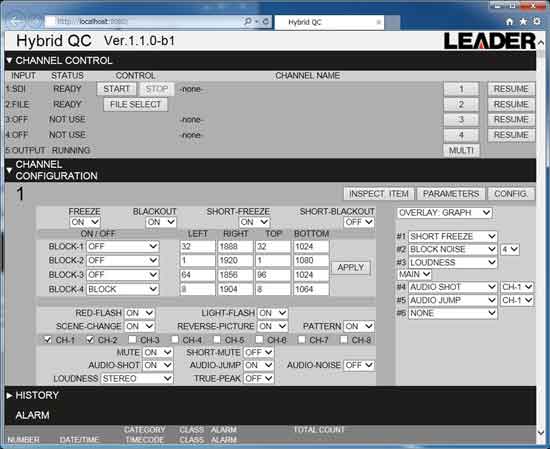 LEADER Instruments Corporation will be demonstrating its ability to provide quality control support for Sony's IP Live Production system at IBC2015.
The demonstration will centre on LEADER's FS 3103 software package which allows MXF audio/video media files to be processed quickly and efficiently. The FS3103 is capable of analyzing up to four MXF files at one time and reduces the processing time for each file to one fifth of real time. MXF formats supported include Sony XDCAM and Panasonic P2.
Sony's IP Live Production system provides a AV over IP interface that delivers low latency and noise-free switching of HD and 4K video, audio and metadata, as part of an IP-based network. The system packetizes video, audio and metadata, enabling real-time transmission between video-production products via standard network infrastructures. This technology further enhances Sony's IP Live Production system by increasing efficiency and reducing cost for live studio broadcasts and sports production. LEADER is among 30 industry-leading companies who are assisting broadcasters in designing and implementing IP based infrastructures.
For those looking to QC SDI video, Leader will also be demonstrating its FS3102 software. This can perform real-time checking of up to four HD-SDI or SD-SDI signal streams. It is designed for use with an SDI to PC plug-in interface board such as the BlackMagic Design DeckLink.
A combined system incorporating an FS 3102 and FS 3103 can process up to four files simultaneously in permutations such as one file on FS 3102 and three files on FS 3103; two files on FS 3102 and two on FS 3103; three files on FS 3102 and one on FS 3103; all four files on FS 3102 with none on FS 3103, and so on.
Easy to install and operate, the Leader FS 3102 and FS 3103 provide automatic checking and analysis of image characteristics such as block noise, line noise, image skip, image freeze, edit point errors, lost source, and sequences likely to cause photosensitive epilepsy.
www.leaderamerica.com
Top Related Stories
Click here for the latest broadcast news stories.