Broadcast News
08/01/2020
Barix Launches IP Former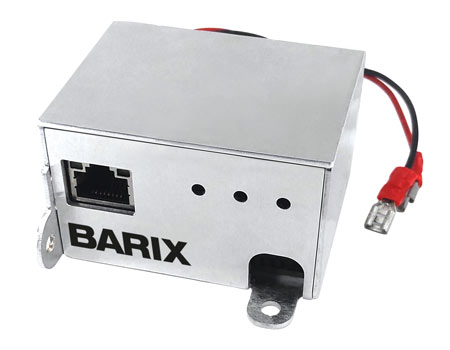 Barix has launched of IP Former, the company's newest innovation for adding IP networking capabilities to new or existing loudspeaker designs.
Replacing the 70/100V transformer traditionally used with analog loudspeakers, the PoE-powered IP Former provides an IP network interface, audio stream decoder and amplifier front-end for any two- to eight-ohm speaker. IP Former will make its global debut in stand 8-K275 at the ISE 2020 exhibition, taking place from February 11 to 14 in Amsterdam.
IP Former offers a broad array of benefits for everyone from systems integrators and end users to third-party manufacturers. By using IP Former in place of standard transformers, systems integrators can continue using their preferred loudspeaker brands and models while easily bringing them into the IP domain. Existing installations can similarly be retrofitted with IP capabilities by simply replacing their transformers with IP Former units, saving the end-customers considerable money by avoiding the need to purchase entirely new speakers.
"Integrators often have particular loudspeaker brands and models they prefer to use in their system designs, but which may not be available in IP-enabled configurations," said Manuel Merki, Head of Marketing at Barix. "Rather than sourcing a different speaker line, these integrators can use IP Former to easily add IP functionality to their existing favorites. IP speakers can also be expensive, so IP Former offers a cost-effective alternative to make IP-based audio infrastructures affordable."
For loudspeaker manufacturers, IP Former provides a fast and reliable path to bringing IP-enhanced products to market by eliminating the extensive R&D effort, time and cost of creating their own IP implementations from scratch. Just as important, IP Former's mounting and connection compatibility with standard 70- and 100-volt transformers enables OEMs to incorporate the Barix module without any changes to their manufacturing processes.
IP Former is based on the IPAM 400, Barix's latest-generation IP Audio Module, and was built with all of the latest IP and IT security standards in mind. The device leverages Power over Ethernet (PoE) through its RJ-45 network interface to minimize cabling and simplify installation by eliminating the need for plugging into a power outlet – making it ideal for installation in locations such as ceilings. Flexibly supporting applications ranging from background music and in-venue announcements to paging and emergency warning systems, IP Former decodes audio streams delivered via HTTP, RTP or UDP in codec formats including PCM, AACplus, MP3, Opus, G.711 and G.722.
Barix's patented Sonic IP method audibly announces each IP Former unit's automatically assigned IP address during initial setup, while a straightforward web-based interface allows configuration. Barix's powerful FLEXA customization layer enables integrators and manufacturers to write and deploy their own custom programs on IP Former, such as triggering playout of messages stored locally on the device. IP Former also supports SIP negotiation for use with VoIP phone systems, and is compatible with InformaCast and Syn-Apps mass notification platforms.
www.barix.com
Top Related Stories
Click here for the latest broadcast news stories.