Broadcast News
04/09/2015
Sony Adds To IP Live Production System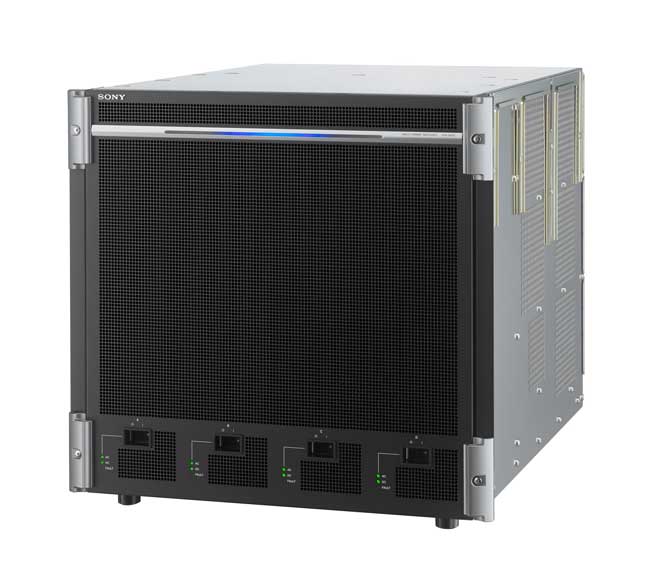 Sony has made three new additions to its IP Live Production System, a value-added solution that increases operational efficiency while providing support for high-value modalities such as 4K and 8K.
Designed with broadcasters in mind, the system modernises live broadcast workflows, as well as supporting next generation technologies emerging in content creation.
To ensure interoperability, Sony proceeds cooperative links and makes the necessary technologies and development tools available to leading vendors. As of September 2015, 36 manufacturers support IP Live Production System.
Sony will share the technology at IBC 2015, as 4K IP-ready new products both with direct IP interfaces and conventional SDI, for flexible system set-up and smooth migration to IP. Attendees at the show will also have the opportunity to see the
XVS-8000
4K/IP Live Switcher; the
BPU-4500
, a 4K/IP base band processor unit; and the
PWS-4500
, a 4K/IP multiport AV server. These products come together to form a full ecosystem that delivers an IP Live Production System, managed and distributed through the Sony's IP Live system manager.
While developing solutions for IP Live production, Sony developed a new AV transmission interface called the Networked Media Interface. The Networked Media Interface will transform all signals for live shooting to IP, such as video, audio, meta-data and synchronous signals and control signals. It will permit resource sharing with other production systems, meaning that file-based systems and live systems can be integrated into one.
The advances made with the Networked Media Interface also reflect the technological advances within the wider industry, catering for the growing demand for content with higher frame rates, and higher resolutions. The Networked Media Interface is a future proofed interface that supports SD, HD, 4K, 8K, and high frame rate in both compression and non-compression. It also transmits 4K over IP in one single Ethernet cable in low latency video codec.
As part of the Networked Media Interface, Sony has submitted technical specification of low latency video codec that was developed for 4K transmission over IP in 10Gpbs, to SMPTE (Society of Motion Picture and Television Engineers) as Registered Disclosure Document (RDD). As well as this, Sony proposed necessary technological elements for live production over IP, to take effect in the SMPTE ST 2022 definition.
Also at IBC, Sony will announce that TV Globo, the prevalent broadcaster in Brazil, has chosen the company as its IP migration partner. TV Globo recently signed a contract with Sony to develop the world's first purpose-built 4K/IP Outside Broadcasting truck that will be available in 2016.
"This new OB truck will be a key component of TV Globo's production plans for the upcoming big sporting events happening in Brazil from 2016 onwards. Sony has always been a reliable partner for TV Globo, so having Sony as a strategic partner in this project gives us confidence that it will be delivered successfully. What's more, Sony's vision around 4K/IP live technology is very well aligned with our own. The 4K/IP product line up just announced by Sony is perfectly suited for this 4K/IP OB truck project," said Raymundo Barros, CTO of TV Globo.
New Products
XVS-8000, the world's first 4K/IP Live Switcher
Supporting the Networked Media Interface, the XVS-8000 has direct IP connectivity. Based on the MVS-8000X, the 4K function is enhanced in the XVS-8000 to meet the demands of live event production. 4K CG wipe is also available due to the increased capacity in the XVS-8000 frame memory, while secure back-up and fast restoring is enabled with the built-in SSD. Available in January 2016.
BPU-4500, 4K/IP Base band processor unit
Supporting the Networked Media Interface, the BPU-4500 has direct IP connectivity, working with the 4K cameras such as the HDC-4300, the F65 and the PMW-F55 together with CA-4000, camera system adapter. The BPU-4500 generates 4K signal and simultaneously HD signal outputs that match to the current Sony HD camera system. The BPU-4500 works with the HDCU-2000/2500 camera control unit to permit the same system operation as the current HDC camera system. Available in January 2016.
PWS-4500, 4K/IP Multi port AV server
The PWS-4500 supports both the Networked Media Interface (by optional board) and conventional SDI. Providing a new "Share Play" feature, with 10G networking, files can be monitored and shared between servers located remotely, for example between several OB trucks or facilities. Redundant power supply and 8x reply in HD (optional) are also available. Available in January 2016.
Image: Sony XVS-8000
www.pro.sony.eu
(JP/LM)
Top Related Stories
Click here for the latest broadcast news stories.