Broadcast News
23/07/2018
Vietnam's BTV Upgrades HQ With PlayBox Technology Solutions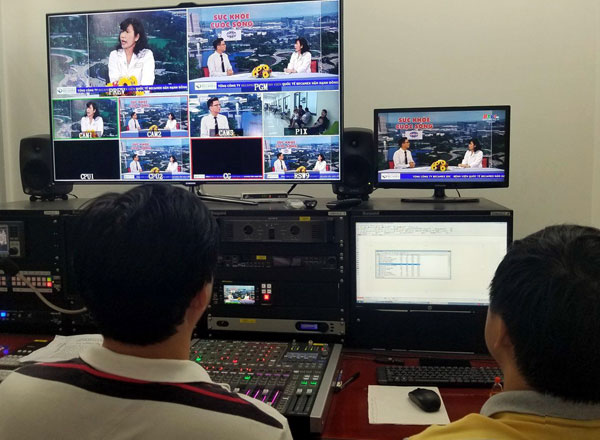 Vietnam broadcaster Binh Duong Radio & Television (BTV) has upgraded and expanded its headquarters with PlayBox Technology's AirBox Neo and TitleBox Neo.
The PlayBox solutions were deployed as a central part of the expansion, located near Ho Chi Minh City.
"We invested in PlayBox Technology AirBox playout and TitleBox channel branding nearly ten years ago," said BTV Senior Engineer, DucThuan Vu. "They proved highly reliable and our operators find them a real pleasure to work with.
"In 2014 we extended the system with AirBox HD and TitleBox HD to power our migration to 1080i high definition. AirBox is also highly scalable and easy to integrate with third-party devices. We are now building a new studio which will be centred on AirBox Neo and TitleBox Neo. Most of our output is news-based so we need a high level of flexibility in the way we handle programme scheduling.
"ListBox Neo is ideal for schedule creation, enabling our programme editors to create and refine schedules days or weeks ahead of transmission. It allows text searching, clip copying and pasting and schedule printing, plus the ability to perform very fast programme editing with a clip trimmer.
"PlayBox Technology supervised the installation from its Malaysia office, including secure online configuration. The system itself is quite conventional with servers located in our main apparatus room and operated from our master control suite."
PlayBox Technology's Asia Pacific General Manager, Desmon Goh, added; "BTV is a model of excellence both in the editorial quality of its programmes and in its production standards. The BTV team makes full use of the graphic design and automated playout features available within AirBox Neo and TitleBox Neo, plus the ability to override with live or near-live content which is essential to any efficient news-oriented broadcaster.
"Scalability and open interconnectivity have long been core elements of the PlayBox Technology ethos, both with the original AirBox and to an even greater degree with our latest-generation Neo and CloudAir solutions. AirBox Neo is also highly future proof, adding UHD capabilities to the PlayBox Technology content playout system which now supports UHD, HD and SD in single server.
"AirBox Neo is designed for 24/7 unattended operation and can also be operated manually, including the ability to handle live-to-air throughput."
www.playboxtechnology.com
Top Related Stories
Click here for the latest broadcast news stories.