Company:
PlayBox Technology UK
Telephone:
01707664444 or (01442) 78 0632
Contact:
Philip Neighbour
Address
Brookmans Park Teleport,
Great North Road,
Hatfield,
AL9 6NE,
UK

About PlayBox Technology UK
PlayBox Technology is the number 1 International 'TV Channel in a Box' manufacturer with Interactive CG & Graphics, MAM and News Room available SD, HD and DVB (ASI/IP). PlayBox Technology has innovative and scalable solutions to fit your workflow and offer you the solution you want at your price. From a Single Channel Playout Server to a Multi-Channel Turn-Key Broadcast Centre, please contact PlayBox Technology.

PlayBox Technology provide Reliable TV Broadcast Technology Solutions and all related services. The PlayBox Technology product families listed below are essential to every TV or Internet Broadcaster to efficiently and effectively run their TV channel. PlayBox Technology Solutions are available in all geographical regions worldwide and solutions are available as boxes or can be supplied, installed, configured and tested as a complete Turn-Key system.

Automation
The PlayBox Technology Broadcast Automation System supports all existing I/O interfaces, all video-audio standards, graphics, digital video effects and compression formats. PlayBox Technology systems can be personalised to fulfill a wide range of extraordinary workflow requirements. Unlike traditional automation solutions, PlayBox Technology embrace its own automation routines built into the dedicated software of each server thus there is no need for external controlling system and maintenance is limited to simple software upgrades. The automation system's scalable and modular architecture enables broadcasters to configure their systems with dynamic interfaces as well as intelligent and customisable rules which meet precise workflow requirements and eliminate repetitive and labour-intensive functions.

Interactive CG, Graphics and Channel Branding
PlayBox Technology developed TitleBox, an interactive graphics manager which creates, displays and controls fascinating multi-zone screens with rolls, crawls, animations, clocks, station logos and more. I was designed to meet Broadcasters' exact requirements, but due to the exceptionally low price it is also suitable for cable TV channels, Digital Signage applications and internal info-channels of hotels, schools, corporations, retail businesses, shopping malls, churches, airports, holiday resorts, theme parks, etc. Its unprecedented level of interactive control over the on-air CG objects turns TitleBox into a powerful tool, ideally suited for channel branding, music shows, live entertainment programs, presentations, sports events titling, etc.

Subtitling
SubtitlePlus and SubtitleBox are universal multilingual subtitling systems that supports a variety of import and export formats, as well as many hardware transport, timecode, video input and output devices. Fully Integrated with the AirBox SD/HD and DVB Automation System SubtitlePlus and SubtitleBox are great ways to incorporate subtitling in your broadcasts.

DVB Products
The DVB product line of PlayBox Technology comes as a natural expansion of the highly successful PlayBox TV product line into the world of IP streaming and satellite broadcasting. PlayBox Technology core DVB technologies bypass the need for the expensive external MPEG2 transport stream encoders and multiplexers, by providing the users with a set of flexible and powerful software tools to achieve the same results. This is of great importance to those involved with multi channel playout, ASI commercial insertion, various streaming applications and transporting of video over traditional computer networks. All these applications allow for logo and graphics insertion in the ASI/IP stream. The simplification and reduced cost of the processes which the PlayBox Technology DVB product line introduces will excite many progressive broadcasters and the telecommunications industry.
Twitter Feed

Facebook Feed
Company News
07/04/2016
PlayBox CloudAir Redefines Broadcast Playout at CABSAT 2016
---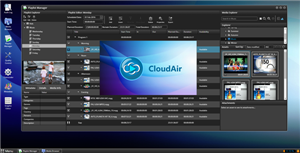 PlayBox Technology, the world leader in television playout and channel branding solutions, reports very high interest in its CloudAir and PlayBox Neo product ranges which were introduced to Middle East and Africa broadcast markets at CABSAT 2016. The exhibition and its parallel conference were held at the Dubai World Trade Centre March 8-10.
"Show attendence was excellent and market conditions buoyant," comments PlayBox Technology CEO Pavlin Rahnev. "Broadcasters and systems integrators in the CABSAT region, like their colleagues worldwide, recognise the inherent advantages of IT-based solutions over the hardware-intensive systems originally developed for the video tape era.
"CloudAir in particular is now seen by many customers as redefining the entire business of broadcast playout. It opens up a wide vista of new operational possibilities, essentially making the entire business of broadcasting much more flexible than before. Starting a new channel, for example, used to demand months of preplanning and a great deal of financial investment. With CloudAir, the technical element of this process can be reduced to a few days, hours or even minutes. CloudAir can be purchased and run on customers' existing servers or licenced from a third-party service provider. It is essentially format independent so can handle standard-definition, high-definition or ultra-high definition.
In addition to its obvious roles in mainstream broadcasting and event-specific OTT channels, the CloudAir virtual IP playout model allows any broadcaster to establish an emergency backup facility without having to find, equip and protect off-site premises. The EBF can be operated remotely as easily as any other channel via a standard IP network. CloudAir completely rewrites the rulebook in terms of cost, staffing and location."
"We also experienced very strong interest from existing PlayBox customers in the PlayBox Neo series," adds Chief Commercial Officer Ben Gunkel. "PlayBox has long been an aspirational brand throughout Africa and the Middle East, building up a large and loyal user base. Neo represents the very latest advance in server-based broadcast playout, so-called 'channel-in-a-box'.
"For a television channel which has perhaps only recently advanced from tape-based to file-based production, the PlayBox suite gives station staff the ongoing reassurance that they have hands-on access to their archives and playout infrastructure. They can choose how much backup equipment they want to invest in and when to switch between live, automated-playout or reserve mode. It is formula that works extremely well for television networks in many countries around the globe."
The new AirBox Neo playout server is a development of the existing AirBox. It can be operated unattended round the clock or over-ridden for live-to-air transmissions. UHD, HD and SD are all supported in single AirBox Neo server.
TitleBox Neo provides a wide range of interactive on-air graphic
04/11/2014
Playbox Secures 'Dominant Position' In West Africa
---
PlayBox Technology says it has secured "a dominant position" as a supplier of playout software and hardware to broadcasters in west Africa.
"At the AfriCast 2014 show in Nigeria during October, conference speakers consistently referred to 'the playbox' as an essential part of modern broadcast workflow," said PlayBox Technology Sales Director Ben Gunkel. "With up to 500 people attending each conference session, this reinforced the message we have been promoting that PlayBox Technology leads the field in terms of reliability, scalability, ease of operation, training, after-sale support and long-term cost-efficiency.
"Broadcasters in this region see PlayBox Technology as an aspirational brand, the one they realise they need. Our products are now used by the vast majority of Nigerian broadcast and playout channels, including three of the four largest networks and nearly all the smaller ones. In addition, many channels subscribe to third-party playout services which use PlayBox Technology systems.
"Africast 2014 was the busiest we have experienced since we first began exhibiting there eight years ago. Our stock of printed literature was exhausted by the end of the first day but obviously we had copies online. We met almost all existing PlayBox Technology system users in the region and held useful discussions with many potential customers. Nigeria's impending switchover from analogue to digital broadcasting is generating opportunities for new programme channels to be carried over terrestrial digital networks. This naturally brought a lot of people to our stand.
"Meeting broadcasters face to face helps build up trust which is always useful when you are trading beyond the border of your home country. A key element of our success in any region is our ability to supply online remote support reinforced, when needed, by a local broadcast engineering specialist. Several partner companies also demonstrated PlayBox Technology products as part of their exhibits."
At AfriCast 2014, Playbox demoed a complete system centred on the AirBox automated playout server, TitleBox graphics manager and CaptureBox PRO multichannel ingest server.
AirBox provides automated content playout for satellite channels, cable head-ends, over-the-air broadcasters and corporate TV users. It can be programmed locally or remotely to operate unattended 24/7.
TitleBox delivers on-air graphics which can be controlled interactively. Multi-layered simultaneous crawls, rolls, animated logos, clocks and text templates can be activated by a mouse click. TitleBox provides control during on-air session, including text selection, running speed and transitions.
CaptureBox PRO allows multiple channels of high-definition or standard-definition content to be captured from SDI digital feeds, analogue sources and MPEG transport streams. Four video sources can be monitored on a single screen and controlled via a new user interface.
Also promoted at AfriCast 2014 was EdgeBox
Find PlayBox Technology UK in
Location of PlayBox Technology UK