Broadcast News
23/08/2017
PlayBox Technology AirBox Neo Powers SLAM!TV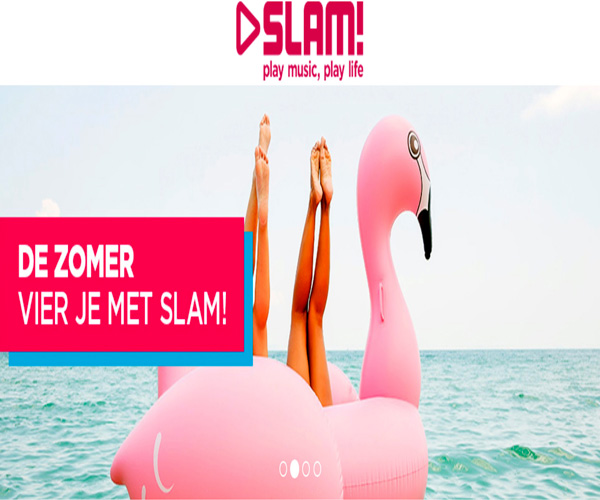 PlayBox Technology has announced the delivery of a scheduling, titling and automated playout system for Netherlands-based broadcast channel SLAM!TV.
"AirBox Neo, TitleBox Neo and ListBox Neo will form the central elements of a state-of-the-art transmission solution at the studios of SLAM!TV's parent company, Radiocorp BV," said Alex Vermeulen, Senior Systems Engineer at PlayBox Technology partner company Digital & Media Solutions which coordinated the project from its headquarters in Oud Gastel. "The new installation forms part of a major upgrade to 1080i high-definition which AirBox Neo takes fully in its stride as well as being fully UHD compatible if or when SLAM!TV considers upgrading to 4K.
"AirBox Neo is a true channel-in-a-box solution, in this case operating on a 1U server which can be populated with whatever software modules are needed to match each specific installation. We have integrated it with SLAM!TV's post-production and archiving network as well as installing protected playout storage. SLAM!TV's engineering staff are highly impressed by the technical elegance and compactness of the PlayBox Technology approach to CIAB which is easy to configure and maintain. Their operators like the logical simplicity of the user interface which allows them perform titling and scheduling quickly and easily. AirBox Neo also enables them to insert near-live or actual live content as soon as the current airing file or clip has completed transmission. Scalability is another important feature, giving AirBox Neo users the freedom to expand with extra channels at relatively short notice.
"Although UHD has a strong priority in the mindset of many product developers, many broadcasters in Europe and around the world are still expanding from standard definition into high definition," added PlayBox Technology President Don Ash. "AirBox Neo and its supporting range of modules give channel owners the freedom to make that transition in exactly the way they choose, running SD, HD and even UHD in parallel if they so desire, all from a single server. They can also scale their system to match current operations while retaining the freedom to add extra transmission channels or higher levels of system redundancy to match their business development."
AirBox Neo is designed for 24/7 unattended operation and can also be operated manually, including the ability to handle live-to-air throughput. Parallel outputs enable the running of two or more SDI or IP streaming SD/HD feeds simultaneously. Changes to the playlist can be made during an on-air session. Clips in the playlist, except the one which is currently playing, can be trimmed, edited or repositioned. Playback order can be performed seamlessly without stopping the current playout session. Live productions are facilitated by a live show clipboard which allows insertion and/or execution of various events or live streams. AirBox Neo supports UHD, HD and SD playout from a single server.
TitleBox Neo provides a wide range of interactive on-air graphics and titling capabilities which can be manipulated live. The feature set includes horizontal crawling text, vertically rolling credits and messages, still and animated logo graphics, analogue and digital clocks, banner slideshows and chat text with automated horizontal or vertical scrolling. Among the additional creative facilities are pre-constructed graphic components, video resizing (from live source or file), window-style display and website content ingest.
ListBox Neo enables programme editors to create and edit schedules days or weeks in advance of transmission. It provides facilities such as text searching, clips copying/pasting and schedule printing. ListBox Neo also has a clip trimmer for simple programme editing. No special server or hardware is required. ListBox Neo runs flawlessly even on a notebook, even with software-based trimming and previewing.
www.playboxtechnology.com
Top Related Stories
Click here for the latest broadcast news stories.