Broadcast News
20/06/2018
StarTimes China Installs PlayBox Neo Servers In Beijing HQ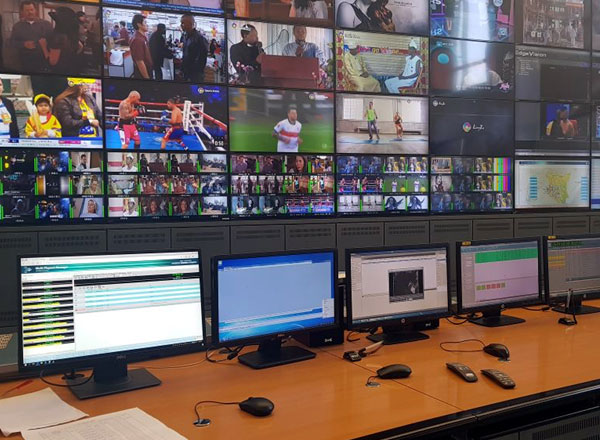 China digital broadcast service provider StarTimes has installed a number of PlayBox Technology AirBox Neo servers as part of a new television playout system at its Beijing headquarters.
The system comprises 12 fully redundant AirBox Neo IP streaming channels in 6 + 6 dual channel configurations to provide full 1:1 backup protection.
"StarTimes has partnered with us very successfully for many years in providing playout systems to its customers," said PlayBox Technology Asia Pacific engineer K. K. Lee. "The StarTimes engineering and operational teams know from direct experience that AirBox Neo is extremely reliable, highly operator friendly and very space efficient. This system will be used to provide broadcasting services directly from StarTimes' own broadcast control facility.
"The whole idea is to replace the old playout servers StarTimes was using. Core equipment in this new installation consists of 12 AirBox Neo streaming servers plus SafeBox Neo software which replicates the content and playlists to local playout server folders prior to transmission. Each server outputs to a DVB encoder and thence to the main transmission feeds. We have also integrated PlayBox Technology ListBox Neo playlist preparation, TitleBox Neo CG and graphics playout and our QCBox Neo quality control modules.
"QCBox Neo analyses the relevant media files in a playlist, folder or selected files. Basic tests include checking for correct duration of streams, continuity, frozen and black frames as well as audio tests, including loudness, phase and audio levels measurements. Test results are stored in a metadata file that accompanies the media file prior to programme playout on AirBox Neo. The metadata file is checked and the AirBox Neo playout can be configured to skip the file, show a warning before playing the file, or play the file depending on the data parameters. In addition, the loudness measurement data from QCBox Neo can be used for automatic adjustment of the audio playback levels.
"We have also supplied two PlayBox Neo DVB subtitling servers which can be used for multi-language DVB subtitling integrated with AirBox Neo output streams. This is a relatively standard configuration and one that has worked very well across many highly successful playout system installations. Connected third-party equipment includes a media asset manager and transmission multiplexers."
PlayBox Technology AirBox Neo can also be operated manually, including the ability to handle live-to-air throughput. UHD, HD and SD are all supported in single server. Features include a streaming input supporting HTTP, HTTP Secure, UDP, RTMP, MMS, MMSH and YouTube. RTMP streaming output allows easy web streaming.
www.playboxtechnology.com
Top Related Stories
Click here for the latest broadcast news stories.