Broadcast News
18/02/2020
PPTV Acquires AirBox Neo-19 CIAB From Playbox Neo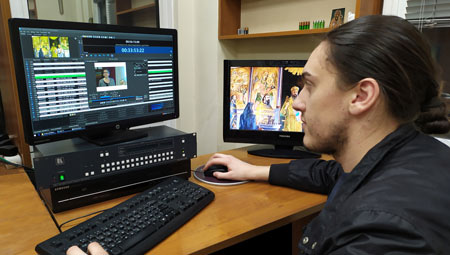 PlayBox Neo has completed a new AirBox Channel-in-a-Box playout system for Plovdiv Orthodox TV (PPTV), commissioned by the Metropolis of Plovdiv.
It includes a server running Neo-19 ingest, transcoding, titling, scheduling and transmission modules. The new installation augments and upgrades existing AirBox CIAB infrastructure commissioned when PPTV commenced broadcasting 10 years ago.
"This investment provides us with latest-generation software running on new dedicated hardware," said PPTV Technical Director Yuriy Todorov. "It includes many refinements which make our day to day channel management operations more efficient than ever. Particularly appreciated is the low-glare graphic user interface which our presentation colleagues find eye-friendly throughout the duration of a working shift.
"Also appreciated is Neo-19's very logical display structure which provides the information essential to each phase of the content sourcing, finessing and scheduling process without peripheral distractions. Supplementary information, if or when needed, is easily accessible from the main GUI.
"A great strength of Neo-19 is that it alerts the operator if any aspect of a prescheduled playout process still needs attention. The PlayBox Neo system also gives our staff the option of working with full automation while retaining the ability to insert live content whenever required."
"We are very pleased by this continued vote of confidence in our servers and software," added PlayBox Neo Area Sales Manager Detelin Georgiev. "Continuity has always been a key theme of our product development strategy as this approach ensures that customers can migrate to our latest-generation software without having to relearn the entire branding and playout process. We advocate evolution rather than revolution. That said, we have provided onsite training as an integral part of this project to ensure PPTV's playout staff are fully proficient in all relevant aspects of the system's operation. Installation was performed by our technical team who will also be available to provide effective support whenever and wherever required."
AirBox Neo is a modular system providing automated content streaming and broadcast playout for any kind of television channel. Its scalable multiformat playout/streaming engine allows a variety of media files to be unified into a single playlist. Multiple UHD/HD/SD SDI/IP streaming outputs are provided simultaneously. Content can be trimmed, edited or repositioned even while on air. Live productions are streamlined to allow insertion and/or execution of various events or live streams into the playlist. Scheduling can be performed weeks in advance for automated playout/streaming. Timing gaps and overlaps are automatically resolved to ensure continuous operation even when conflicting events are detected. Special facilities ensure uninterrupted operation if content files or even entire schedules are missing or misplaced.
www.playboxneo.com
Top Related Stories
Click here for the latest broadcast news stories.