Broadcast News
11/07/2017
AIT Celebrates 21st Anniversary With PlayBox Technology AirBox Neo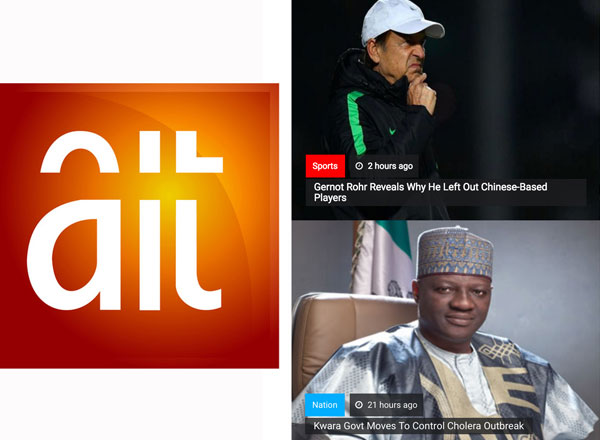 Africa Independent Television (AIT), one of Nigeria's most popular and successful television channels, has chosen AirBox Neo from PlayBox Technology as the playout system for its UK division which operates from studios in Borehamwood, Hertfordshire.
A complete solution incorporating the latest Neo versions of AirBox, TitleBox, SafeBox and ListBox will be provided.
AIT's Director of UK Operations Mutairu Jibril, said: "The network celebrates its 21st anniversary this year which marks an ideal time to be investing in the finest available playout facilities. The AirBox product family has an excellent reputation for reliability, operational flexibility and ease of use.
"The Neo series is also highly future proof, empowering us to handle standard-definition, high-definition and ultra-high-definition content in a single server. PlayBox Technology is also very highly regarded throughout the broadcast industry for the strength and efficiency of its post-sale support which is an important element for the guys on the front line."
PlayBox Technology president Don Ash, added: "African broadcasters were among the first to recognise the operational and economic advantages of file-based playout from digital disk servers. That has helped to make AirBox and aspirational product worldwide. AIT has earned an excellent reputation for production quality and especially for the depth and impartiality of its news reporting. It is a very welcome addition to the many thousands of AirBox Neo users around the globe."
Designed for 24/7 unattended operation, AirBox Neo can be operated under full pre-scheduled automation while retaining the flexibility of allowing manual over-ride including the ability to handle live-to-air throughput. UHD, HD and SD content can be played out from single server. Recently added features include a streaming input supporting HTTP, HTTP Secure, UDP, RTMP, MMS, MMSH and YouTube.
An integral virtual output allows easy web streaming and supporting multiple instances. Third-party product support has been extended to Ross NK series routers and the Horita TR-100 timecode reader.
Timecode can now be applied to MOV files. Multiple DeckLink cards can now be used for multi-channel ad insertion. Enhancements have also been made to the clip trimmer and audio level control.
playboxtechnology.com
www.daargroup.com
Top Related Stories
Click here for the latest broadcast news stories.