Broadcast News
15/05/2018
Cutting Edge Technology And Innovative Solutions Unveiled At NAB 2018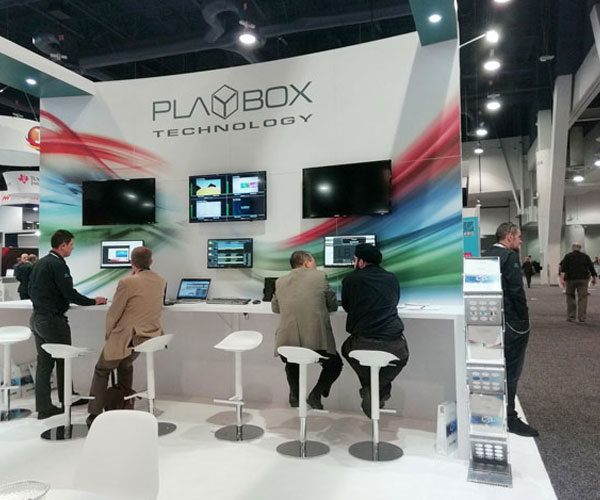 Despite temperatures soaring to 30 degrees in Las Vegas, a record number of visitors attended the world's largest convention which encompasses the convergence of media, entertainment and technology - NAB 2018.

This was my first time attending the show and the only way I can describe it is "overwhelming" and an "absolutely fabulous experience".

The size of the event, nearly one million net square feet of space make up the NAB Show exhibit floor, was one that I have never experienced before and my feet felt like they had ran a marathon by the end of day one! However, despite the jet lag I met with some of the most inspiring leaders within the ever evolving industry who shared their stories, solutions, techniques and personal journeys.

Over 200 firms exhibited for the first time at the show and offered a first look at new products and technologies through interactive exhibits and demonstrations on the nearly one million net square feet of space that makes up the NAB Show exhibit floor.

In total over 1,800 firms exhibited at the show which is the ultimate marketplace for solutions that transcend traditional broadcasting and embrace content delivery to new screens in new ways.

My three important learnings from the event included IP to transport media, Cloud workflows and TV as a Service (TVaaS).

Here are some of the highlights of offerings from some of the most innovative companies.

PlayBox Technology debuted the latest versions of the server-based Neo and SaaS-based CloudAir playout solutions.

The two solutions were also demonstrated in hybrid roles, providing a fast and cost-efficient way to add extra channels as well as enabling cloud-based archiving, asset management and secure disaster-recovery.

The firm also announced it has recently appointed a new Managing Director Mike Provancha, who was an absolute delight to meet.

Mike has over 40 years of video experience in engineering, sales, and management. In addition to his engineering degree, he holds a bachelors degree in marketing. Starting his sales career with Ampex and subsequently Grass Valley Group, Mike has held management positions at Abekas, Pluto, NVP and Masstech - where he was managing director of EMEA. Mike most recently was co-founder and managing director of LS Global Partners, an international business development firm.

Mike will play a key role in meeting the company's aggressive goals, as well as building on the company's outstanding reputation for service and providing superior products. PlayBox Technology has provided over 17,500 TV and branding channels worldwide.

AJA Video Systems unveiled the new IPR-10G-HDMI Mini-Converter, which converts SMPTE ST 2110 IP video/audio to HDMI. The new Mini-Converter allows broadcast, production, post and ProAV professionals to output SMPTE ST 2110 video/audio to HDMI monitors. AJA also introduced SMPTE ST 2110 support for its KONA IP via free Desktop Software v14.2.

"SMPTE ST 2110 is positioned to drive IP video adoption forward, and AJA is committed to delivering tools that help bridge IP with existing technologies," said Nick Rashby, President, AJA Video Systems. "IPR-10G-HDMI and KONA IP, with SMPTE 2110 support, allow facilities to take advantage of the many benefits ST 2110 offers for uncompressed HD video and audio over IP, while getting the most out of the gear they already have in edit bays, OB trucks, control rooms and other environments."

The first in AJA's new 10GigE IP Mini-Converter line, IPR-10G-HDMI provides monitoring of HD SMPTE ST 2110 signals via HDMI. It receives ST 2110 over 10GigE connectivity, formats the data for output on a full-size HDMI interface, and the associated audio from the video stream is extracted, synchronized and embedded into the HDMI interface and also output on an analog RCA interface.

VITEC expanded its ecosystem of state-of-the-art HEVC video distribution solutions with the all-new MGW Diamond Encoder and the VITEC Playout Server, a versatile point-to-point HEVC distribution solution. Making its debut at the 2018 NAB Show, the MGW Diamond Encoder adds quad-channel HEVC encoding in a compact and portable form factor to the VITEC HEVC family. The all-new VITEC Playout Server provides an efficient platform to manage, capture, preview, and distribute IPTV streams, complementing VITEC's point-to-point HEVC contribution ecosystem.

Also on display was VITEC's point-to-point/point-to-multipoint HEVC streaming offering, featuring the award-winning MGW Ace hardware-based HEVC encode/decode solution. Using VITEC's second-generation 4:2:2 10-bit HEVC codec (Gen2), the compact, powerful streaming appliance features unmatched video quality and highly efficient bandwidth compression. The built-in advanced stream protection guarantees reliable video distribution over any network, including the internet.

VITEC demonstrated its all-new MGW Diamond, a compact, power-efficient, and portable HEVC and H.264 HD/SD encoder, which is ideal for any multichannel broadcast application with stringent size, weight, and power requirements (SWaP). The MGW Diamond delivers HEVC encoding in a fraction of the footprint of comparable encoders, with the ability to capture up to four 3G/HD/SD-SDI or composite inputs and live stream up to eight channels.

Complementing the VITEC HEVC ecosystem, the new VITEC Playout Server provides an efficient platform to manage, capture, and preview IPTV-protected streams transmitted by VITEC encoders from any location and distribute them within a target network, whether for rebroadcast, video-on-demand, or any other application. The server is the perfect solution to enable high-quality, low-bandwidth, reliable contribution over the internet while avoiding the use of expensive and less flexible fiber or satellite transmission infrastructure, leading to a dramatic reduction of operating expenses (OPEX).

Riedel Communications also introduced the new 1200 series SmartPanel. The RSP-1232HL represents a quantum leap forward in workflow flexibility, power, and connectivity. Featuring multiple full-color multitouch displays, 32 innovative hybrid-lever keys, the ability to leverage apps for multifunctionality, and the ability to adapt easily to the various workflows in use today, this new panel is poised to allow users to work the way they always have while opening up entirely new possibilities.

The two-year research and development effort behind the RSP-1232HL panel involved input from many users and industry pros. Every aspect of existing panel technology was evaluated, from the spacing of components to their look and feel. The result is a 32-key user interface with each lever key having an integrated rotary encoder that provides control over parameters in the same location as the key. The levers have been meticulously designed to have the perfect form, weight, comfort, responsiveness, and anti-fatigue qualities to effectively redefine the way an intercom panel should feel.

The RSP-1232HL has been designed to support varied workflows. Some comms users prefer "Talk & Listen" workflows where the user chooses what to listen to from an initially silent panel. Other workflows prefer a "Talk & Mute" workflow where users start with a panel that broadcasts everything, with the users selectively choosing which signals to turn off. Users decide which mode they prefer on a per-panel basis.

ARRI displayed its new ALEXA LF camera and ARRI Signature Prime lenses along with various lighting highlights and latest product innovations.
During the show, ARRI also took the opportunity to connect with partners and industry friends by hosting two booth receptions. After the show on Monday, lighting partners gathered for refreshments and camaraderie while on Tuesday evening, members of the ARRI Partner Program were invited to stay and mingle after the show had officially closed its doors for the day. ARRI Asia also hosted a dinner for their customers and partners at the Hofbrauhaus Las Vegas on Tuesday evening.

Using live models this year, booth visitors could take the LF camera for a test drive to see the superior capturing power of ARRI's new full-format camera system for themselves. The ALEXA LF camera and ARRI Signature Prime lenses could also be inspected up close in display cases at the front of the booth.

Also new to NAB this year were the ARRI filters. In demonstrations over the course of the show, visitors were shown how easy the ARRI filters are to keep clean, even in the face of grease, permanent marker, and lotion. Back at NAB after a short hiatus, archival technology took center stage with the new ARRISCAN XT. Customers were encouraged to learn about ARRI's latest version of the award-winning ARRISCAN.

ARRI camera system and lighting equipment was also on display and in use at many other exhibitor's booths at NAB, showcasing the compatibility, reliability, and excellence of ARRI products.

Undoubtedly one of the biggest stands at the show Sony displayed a number of technologies and products at the show, made for 4K, 8K, High Dynamic Range, IP and more.

Taking centre-stage on the stand was Sony's ultimate big-screen bezel-less Crystal LED display system, delivering huge 8K x 4K visual images. Ultra-real content, including unprecedented 8K 120fps video shot by 8K system camera UHC-8300 with 1.25-inch three 8K sensors, are replayed to impress visitors. Sony's stand also featured new models and updates to solutions and services.

A combination of changing consumer viewing habits, unexampled industry consolidation and new business models has created a "sea change" in the media industry, according to Katsunori Yamanouchi, president of Sony's Professional Solutions Americas group.

Sony also highlighted its comprehensive and growing line of camcorders, with 4K and support for High Dynamic Range (HDR) available at every level.

Sony is expanding its XDCAM line of professional camcorders with its new flagship handheld 4K PXW-Z280 and a 4K compact camcorder PXW-Z190.  
PXW-Z280 equips the world's first 4K three 1/2-type Exmor R CMOS image sensors, delivering high sensitivity of F12 (59.94p), long zoom ratio and deep depth of field, ideal for news gathering. In addition, 4K 4:2:2 10-bit adds vivid imagery and delicate colour gradation. The PXW-Z280 also supports 4K 50p/60p recording capability and 12G-SDI output, good for live event production. The enhanced network enables direct-to-air workflow, featuring Sony's Quality of Service (QoS) for live distribution of high-quality broadcast content using a Dual Link connection multiplexing two cellular networks. A 17x zoom lens and three independent control rings with end-stop, allow manual control of focus, zoom, and iris for quick and precise adjustment.

PXW-Z190 carries newly developed 4K three 1/3-type Exmor R CMOS image sensors capture RGB light independently and deliver 4K 50p/60p imagery with high resolution and a wide range of gradation. 4:2:2 10-bit ensures vivid and rich colour content in HD. The new model incorporates a 25x optical zoom lens to cover a wide focal range for multiple shooing requirements, with three independent lens rings to support intuitive operation.

Both models have Advanced Face Detection Autofocus (AF) including "Face Priority AF" and newly added "Face Only AF", and Sony's Electronic Variable ND filter ensures greater exposure control by smoothly varying the density of the ND filter during shooting while maintaining resolution and depth of field.

Blackmagic Design announced the all new Blackmagic Pocket Cinema Camera 4K, a handheld digital film camera with full 4/3 HDR sensor, dual native ISO with up to 25600 ISO for incredible low light performance as well as 13 stops of dynamic range. It also eliminates expensive external recorders, as it features a unique new USB-C Expansion Port, which allows customers to record using the internal SD/UHS-II and CFast recorders or directly to the same external disks they will use for editing and color correction.

The revolutionary new Blackmagic Pocket Cinema Camera 4K is the handheld digital film camera that customers have been asking for. It packs incredibly high end imaging and professional features into a portable and affordable design that can be used anywhere. The compact body style is perfect for shooting independent films and documentaries, fashion shows, travel blogs, web videos, weddings, corporate video, sports and much more.

The Blackmagic Pocket Cinema Camera 4K features a full size 4/3 HDR sensor with native 4096 x 2160 resolution and 13 stops of dynamic range for true digital film quality. The full size of the 4/3 sensor is designed to perfectly match MFT lenses so the crop factor is greatly reduced, giving customers a wider field of view. It also features dual native ISO with up to 25600 ISO for incredible low light performance.

The Blackmagic Pocket Cinema Camera 4K is packed with features such as a MFT lens mount, large 5 inch touchscreen monitor, 10-bit ProRes and 12-bit RAW recording, 3D LUTs, 4 built in microphones, mini XLR audio input with phantom power, Bluetooth wireless camera control, HDMI on set monitoring output and more. The latest Blackmagic Design color science lets customers shoot images that are far better than DSLR cameras and even better than professional digital film cameras costing tens of thousands more.

NewTek also announced LiveGraphics™, an entirely new approach to the creation of real-time motion graphics that does not require a proprietary hardware graphics engine. With NewTek LiveGraphics, content authored in Adobe® Photoshop® CC and Adobe After Effects® CC is available for live output from TriCaster® TC1 and NewTek IP Series with fully replaceable text and images that can be driven by live data and web content. The result of extensive development, LiveGraphics™ delivers on the promise of Adobe Creative Cloud® in real-time.

The process begins with LiveGraphics Creator, a plug-in used within Adobe After Effects that allows users to create advanced real-time graphics quickly and easily using complex layer preset and text effects that can be applied across multiple layers simultaneously with offsets. Simply import a layered Photoshop file with the LiveGraphics Creator plug-in and a composition is created automatically. After animating and previewing in After Effects, a single button-push exports the content and instructions into a package file for import into a TriCaster TC1 or IP Series media buffer; with 10 channels of real-time graphics and preset states for layer compositions and data elements.

Once loaded into a NewTek live production system, text and image fields are manually replaceable or can be connected to any data source using the native Datalink™ functionality including database updates, watch folders, remote updates from web pages, scoreboard controllers, macros and LivePanel™ web based scoring. Macros can be used to fire graphics or custom LivePanel user interfaces can provide content editing and triggering capabilities at one or more separate operator positions. In addition, LiveGraphics ships with over 100 customizable templates that are ready-to-use, giving users high-quality real-time graphics from the start.

Ross Video launched a new XPression M7 hardware platform that has been designed to address the changing needs of graphics customers. This new version, with a smaller 2RU footprint, offers improved scalability so customers can more easily upgrade from single channel all the way up to Quad-Link UHD/4K. SMPTE IP standards are also supported using the same base hardware. In addition, all upgrades are software licenses, in keeping with Ross Video's Software Defined Production model.

Customers now have a choice between additional channels of graphics or baseband video preview outputs using the new XPression M7 hardware, depending on software editions.

The firm also unveiled V8 of the XPression software. A major component of this latest version is Tessera SE: a single engine edition of Ross Video's multi-engine graphics control system. Adding Tessera SE to an XPression engine helps customers with dynamic display needs not addressed by traditional graphics engines. Some projects are not large enough to require a full Tessera configuration; Tessera SE addresses these situations.

Patrick Twomey, Director of Product Marketing for XPression, said: "XPression continues to solve our customers' increasingly complex needs, and these new additions to the XPression family will enable customers to focus on their creative content without an extended learning curve."

In conclusion, the show hosted some great presentations and products and I have no doubt even bigger announcements, mergers and product advancements will be made at NAB 2019.

This article is also available in the May edition of Broadcast Film & Video.
More Content Management Stories