Broadcast News
24/11/2017
PlayBox Technology Neo Powers New HD Channel at main.tv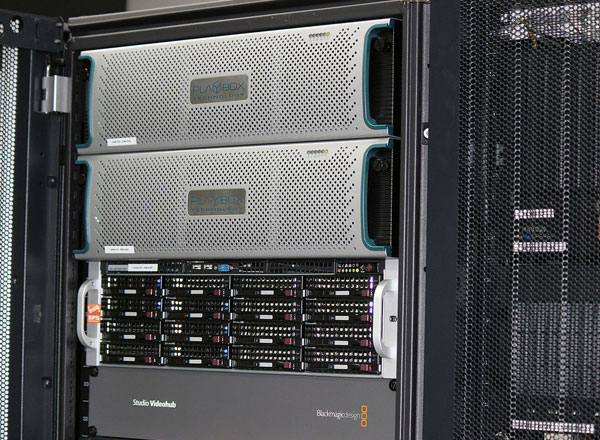 main.tv, one of Bavaria's leading regional broadcasters, has chosen PlayBox Technology Neo as the core playout system for its new high definition television service.
Based in Aschafenburg, main.tv produces a wide range of programmes for viewers in Lower Franconia and across the Rhine-Main plain. The new system was supplied by VIDI GmbH, PlayBox Technology master distributor for Germany, Austria and Switzerland.
main.tv Technical Director Hartmut Lieb, said: "We chose a PlayBox Technology AirBox system some ten years ago for playout of our 625-line standard definition channel. It is space efficient, power-efficient and highly reliable, connecting easily with the rest of our technical infrastructure. It also has a very operator-friendly user interface. The proven stability of AirBox and its modules, combined with the local support we know we can depend on from VIDI before sale, during installation and training, and post-sale, gave us every incentive to select AirBox Neo for our migration to HD. Don't ask us yet about UHD but we know the Neo product range can handle that too if or when it is required."
VIDI Senior Sales & Project Manager Harald Kreissl, added: "This new HD system at main.tv follows the same configuration as its SD predecessor. Based on the latest generation AirBox Neo server populated with TitleBox Neo graphics and ListBox Neo scheduling, it comprises two-channels in main and backup roles. SD and HD playout can both be performed from the same server."
PlayBox Technology President Don Ash, also said: "The Neo product family continues to be very popular among European broadcasters, thanks in no small measure to the very high respect which VIDI enjoys in the DACH markets. We are seeing many television channels upgrading to our latest-generation Neo solutions, often to power new-start HD services."
AirBox Neo adds UHD capabilities to the core PlayBox Technology content playout system which now supports UHD, HD and SD in single server. Designed for 24/7 unattended operation, AirBox Neo can also be operated manually, including the ability to handle live-to-air throughput.
TitleBox Neo provides total control during on-air sessions, including text selection, running speed and transitions. Among its additional creative facilities are pre-constructed graphic components, video resizing (from live source or file), window-style display and website content ingest.
ListBox Neo enables programme editors to create and edit schedules days or weeks in advance of transmission. No special server or hardware is required as ListBox Neo runs flawlessly even on a notebook, including software-based trimming and previewing.
Transmitting in SD and HD via the Bavarian digital terrestrial network, main.tv covers a wide subject range including entertainment, local and global news, the arts, current affairs, sports and weather. Many programmes are also accessible worldwide via on-demand streams from the network's website.
playboxtechnology.com
More Content Management Stories