Broadcast News
01/04/2019
Rohde & Schwarz To Present R&S PRISMON A/V Monitoring And IP Baseband Multiviewer Solutions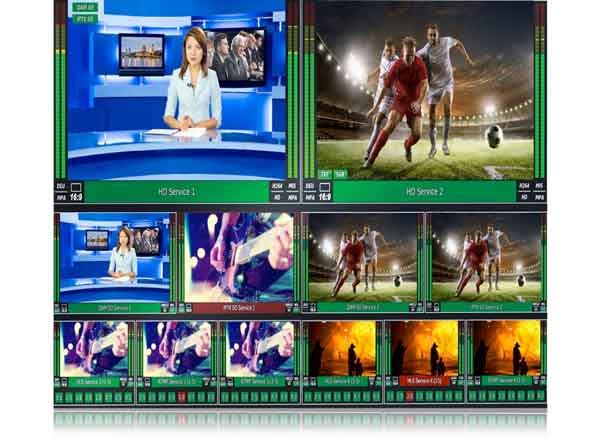 Rohde & Schwarz is to present its latest R&S PRISMON A/V monitoring and IP baseband multiviewer solutions at NAB 2019.

The firm will present its field-proven R&S PRISMON solution with a new take on two primary applications: advanced audio/video monitoring for distribution/delivery environments and an IP baseband multiviewer for studio/production/playout environments.

R&S PRISMON is a versatile and future-proof family of software based solutions for monitoring and multiviewing audio/video content. It supports the present and future plethora of standards for content transport and media formats, both in legacy and state-of-the-art, IP based broadcasting environments. For the associated streaming environments, it also offers a comprehensive set of protocols for OTT services.
The next generation of intelligent monitoring solutions

Used as a monitoring application, R&S PRISMON provides broadcasters and media service operators with advanced capabilities for monitoring audio/video content in distribution/delivery environments. It uses a unified multi-standard/multi-protocol approach to transport media via OTT, SMPTE 2022-1/2 and DVB. Transport level monitoring is supplemented by a comprehensive and extendable set of intelligent functions for signal analysis, monitoring and quality control of audio/video content such as LiveQM, video freeze, content compare and more. With this set of tools, broadcasters and media service operators can monitor live services from the transport to the application level to ensure that their customers enjoy an excellent media experience.

At the Rohde & Schwarz booth, visitors will also be able to experience how the R&S PRISMON monitoring solution seamlessly interworks with R&S PRISMON.cloud – a new Rohde & Schwarz digital service featuring monitoring as a service (MaaS).
The next generation of IP baseband multiviewer solutions

Used as a multiviewer application, R&S PRISMON supports broadcasters with powerful video multiviewing capabilities for IP baseband signals (SMPTE 2022-1/2, 2022-6/7, 2110-20/30/40) in state-of-the-art, AMWA NMOS based studio/production/playout environments. For backward compatibility, support for SDI/ASI signals is provided. Production operators/controllers benefit from multiviewer resolutions up to UHD with industry-leading low latency. The solutions offer both output of video mosaics via physical monitors (HDMI) and via multiple streams over the IP network (SMPTE 2022-1/2, 2022-6/7, 2110-20/21). A built-in editor allows users to create and modify mosaic layouts.

The R&S PRISMON monitoring and multiviewer solutions both feature a fully software defined architecture, making them future-proof and ready for deployment on hypervisor platforms or in the cloud.
More Content Management Stories