Broadcast News
18/04/2018
How To Transform Your Production Using An Underwater Sequence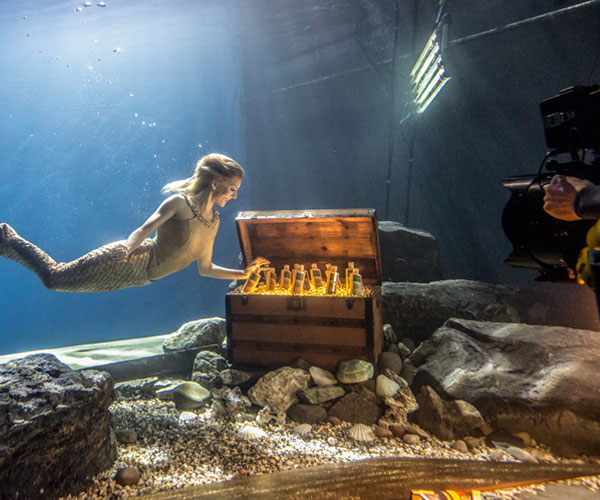 Having shot as an underwater stills specialist for over 20 years shooting ads, wildlife and editorial I thought it was time to move over to stills' more grown-up cousin underwater filming about three years ago.
Underwater stills is all about teamwork, requiring a massive effort from the whole shoot production team. Nevertheless most of the pre production and a good degree of the post production lands on one's own desk and the photographer tends to wear many hats in the process. However the very definition of film production is a genuine team effort all round. Adapting to that fact is essential and following on from there is a matter of transferring a lot of one's skills over as quickly as possible and learning new ones from one's heros or mentors.
An underwater film sequence can change the fabric of a production subtly if the script allows for this. If relevant to the storyline it can describe, in a very visual way, the script's narrative, emphasizing the emotions and action the director needs and adding extra visual choices to the story line.
Judicious use of lighting and camera technique can make a shot come to life, creating anything from a murky riverbed, pool scene or even a seascape to suit.
Lighting is super important and a lighting gaffer who is experienced with water is essential. Lighting choices and principles are similar with the underwater set as in a dry one, with the addition of the extra safety required from an experienced lighting team.
Depending on the director's vision we tend to use lighting to replicate natural light or a sun substitute with fill and bounce, utilising lighting as diverse as HMIs, tungsten and underwater Kinoflows for fill so it looks as realistic as possible. But anything is possible with a good lighting gaffer.
Filming tanks can vary in scale and budget from portable tanks transported to a production car park, a bespoke film tank with a large body of clean warm water with wide gantries for lighting, or a location shoot in the sea or a murky river bed. I have shot in all of these places and the diversity makes it interesting.
Most good cinematic movie cameras can be housed in professional waterproof housings and give the underwater camera operator/director the same choices he or she has topside. Indeed no real camera setting choices have to be made in air once the camera operator is underwater as most or all the controls are accessible underwater. Camera controls can indeed be handed over to a topside team and taken away altogether from the underwater camera operator, taking control of focus, iris, and zoom controls as required, allowing a good camera operator free to simply compose the shot. All images, piped to the surface via a long RT motion cable to a video village and directions, are routinely given via underwater communication systems or a hydrophone.
All the above is wrapped up in good diving practices and a solid dive safety team, all HSE compliant. These are the people who stay the longest on the production and look after the artists in the water. If an artist is required, usually a three man safety dive team is needed to look after them keeping them safe and feeding them air when required. With this in mind some form of training is normally required even if it is just a day acclimatisation to working in and underwater.
Underwater filming is an extra string to a production's bow and, where appropriate, worth seriously considering.
By Zac Macaulay
www.zacmacaulay.com
More Corporate Video Production Stories