Broadcast News
13/06/2016
A Guide To Commissioning A Corporate Video Production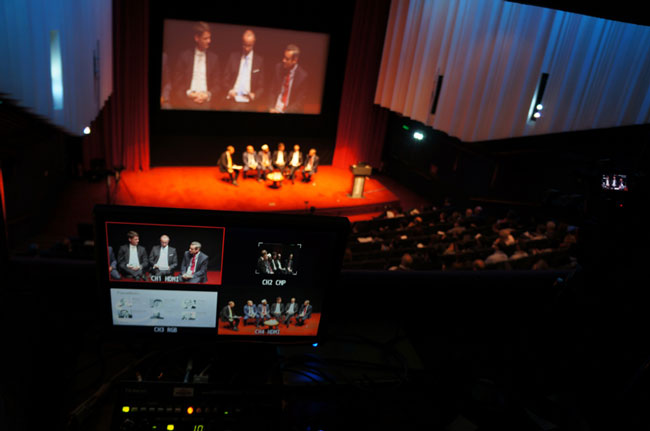 This is a guide to speaking the language of corporate video production companies in order to describe your project, find out what options are available and get an accurate quote.
Video is clearly an essential ingredient in marketing, driving online traffic, communication, building trust and brand awareness. We are reaching the point where a lack of online video presence or poorly produced promotional video will be treated with suspicion. It can, however, be difficult to know how to get started in creating online videos. Here are some tips from our 10 years' experience running the
London-based corporate video production company
Promo Video.
The different types of video production
Videos typically fall into one or more of several categories:
Promotional video
Short marketing videos that can be used on and offsite providing an overview of the business, usually with a direct call to action. This is usually the first and most important video the company will make.
Explainer video
Short entertaining videos that explain an idea, product or service. They typically use animation, motion graphics, screencasts, whiteboard animation and voice-over.
Social media video
Often the videos that work best on social media are not overtly promotional in nature. They can provide information, entertain and educate. The purpose is like that of all content marketing: to provide free value based content and inadvertently raising brand awareness and creating thought leadership.
Internal communication video
Often in the form of talking heads and used for companies to communicate between their departments. Also including staff induction videos, seminars, safety videos and documentary style films that help to motivate and spread information within an organisation.
Training video
Traditionally, training videos were commissioned to train staff in procedures and practices within an organisation. They can be produced specifically for the purpose of training or they can be the product of filming a training event or workshop. These days the term training video is sometimes also applied to external 'how to' videos on social media as a means of content marketing.
Event video
Corporate events can be a goldmine of valuable video content. A promotional video of highlights can promote future events, be an asset for delegates and raise the profile of the participants. Seminars, and interviews can also be filmed to create post event content for the delegates and useful informative content for the public.
Information to give a video production company
These are some of the questions we typically pose to enquirers about our video production services in order to ascertain the scope of the project and give an idea of cost:
What is the purpose of the video?
This is probably the most important. What do you hope to gain from the video and how would you like it to benefit your business or cause? It might have a very specific purpose such as driving traffic to your website or providing an overview of your products and services for the purpose of making a sale. You might want to include a very specific call to action in the video and set up a means to track the success of this. It might be more general such as brand awareness or building trust in the eyes of your customers and showing some personality to the business. Whatever is your purpose, this is good information to know for suggesting options that might work best.
What is the audience for the video?
The audience for a video can be anywhere from the general public to a very targeted group of potential customers. It's useful to have an idea of the demographic, age, gender, musical tastes etc. Knowing the intended audience helps in creating the right tone and amount of information in the video.
What elements do you wish to include in the video?
Interviews and B-roll
Promotional videos and documentary style informational videos typically consist of interviews and B-roll footage. The interviews, testimonials and vox pops can provide the information or story backbone to the video while the B-roll provides footage that illustrates the content. Talking heads aren't the most visually engaging things to watch so any extra material to support the verbal information will make for a more engaging video. Aside from video footage, think photos, infographics and diagrams.
Voice over
Voice-over can support the interviews and tie the information together or can be used on its own. If you use voice over you can either write the script yourself or get a script writer from the production company to do it based on your brief. Often the production company will be able to give you a shortlist of voice-over artists to choose from with demos based on your actual script. Sometimes verbal content might not be needed and the viewer can be guided through the video with just music and text on screen.
Interviews or teleprompter?
Usually the informational content of a video is in the form of interviews, testimonials, voice-over or a piece delivered directly to the camera via a teleprompter. A series of questions posed by an offscreen interviewer can usually make for the most natural and informal result. A concise delivery can then be edited together using B-roll footage or still images to cover the edit points. Alternatively, you can use a teleprompter allowing you to speak concisely and eloquently straight from the script with no editing. It takes a little practice to look natural and it requires a well written conversational sounding script. Most video production companies will be able to bring along a teleprompter if you prefer this approach.
Music
Music can play a crucial role in corporate video production though should be used wisely. The style of music implies a great deal and needs to align with your brand and the intended demographic of the audience. As a rule, avoid music with lyrics unless the lyrics are pertinent to the brand or video. Most video producers will use royalty free production music as commercial music is both expensive and complicated to clear.
What is the cost of a corporate video production? A guide to budget.
This is often the first question we get asked by enquirers and is difficult to answer without some idea of the scope of the project outlined by the points above. A typical promotional video might start at about £1,000 for something basic and then stretch to the tens of thousands or more as the scope becomes more elaborate.
The main considerations in cost are the amount of production time (filming) and the postproduction time (editing, graphics, titles, colour correcting etc). A basic shooting kit of camera, lights and sound equipment usually come as standard though you may require additional elements such as aerial shots, green screens, actors etc. To keep costs as low as possible you might want to organise the shooting time to be as efficient as possible. You can streamline the budget by making sure all of the participants in the video are available on the same day and all of the things that need to be filmed are readily available.
Most production companies will bill as a half day or full day shoot. Post production time depends on the complexity of the edit and whether it requires additional components such as animation and motion graphics. Most companies will offer a revision process based on your feedback. Usually three revisions are standard. If you can give a guide budget to the production company it can be very helpful as they can then suggest a variety of options that stay within the price range.
Starting the process
You'll be able to see showreels and examples of previous work on the websites of most video production companies and can get an idea of whether they might be a good fit for your project. Many companies will be happy to give free advice and help you in the process irrespective of whether they win the business. Give as much information about the project as possible in order to get an accurate quote.
If you can find any similar videos on YouTube and provide links, this can be very useful in communicating what you're after. Corporate video production is a very bespoke service with each project being quite unique. How you use video may evolve and mature over time and once you start, you may discover many new ways that you can communicate, provide value and promote your business.
(JP)
More Corporate Video Production Stories