Broadcast News
14/02/2018
Animals In Industry...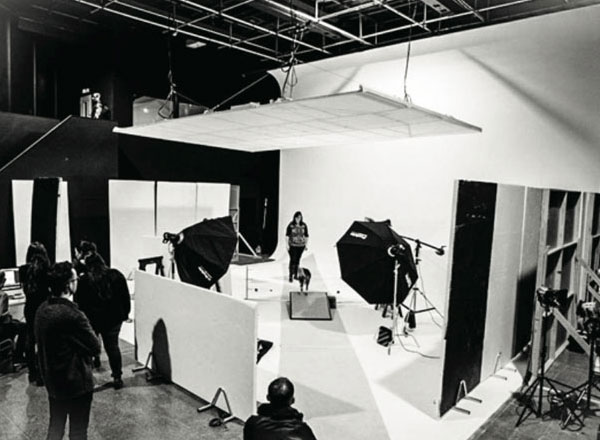 Do you know how many professionals it takes to create a commercial using a pet? We recently found out with a double dog shoot.
Action Image Productions, in conjunction with SkyLark Agency, were commissioned by a global household appliances manufacturer to film a range of high speed shots using the Phantom Flex 4K, involving a range of props but focused around some beautiful show dogs.
For days, the normally spacious 3,000m2 studio was turned into a holding pen for clients, owners, crew and some very happy dogs. Waving tails, sporadically barking, excitement getting their treats, the crew were a picture... and even the dogs performed well!
Within less than a week back at Stage A Studios, based in Cheltenham, another shoot. This time a stills shoot with one of the biggest pet food brands in the industry was underway, involving yet more of man's 'best friend'. For a number of days and throughout each day, both dogs and proud owners were arriving from all over the country, with some travelling 400 miles for their 90-minute slot.
For both shoots, an army of professionals, from vets, groomers and trainers; all making sure that pets not only looked great, felt great and followed instructions easily but importantly, no harm came to them at any time of the shoot, especially while in a live working studio environment.
The on-site vet checked if dogs had all the required immunisation certificates, as well as running a standard health check before their 15 minutes of fame. Throughout the shoot the vets carefully watched the setup and dogs throughout the day.
They were checking and testing if the large fans and lights used for these shoots sat comfortably with the dogs, whilst we ran tests ahead to ensure not to stress each dog prior to their main shoot.
In the background, the groomers worked patiently with often restless and 'full of energy' dogs of all ages. While trainers made sure that new 'models' arriving were not overwhelmed by new surroundings and followed the director's requests.
Meanwhile, crew were setting and resetting equipment waiting for the little models to 'strike that pose' and turn or leap on command. Once settled into the scene, the results were very positive after only a few takes.
With two major commercial productions back to back, 23 dogs across the period, and around three times more people to take care of them, it was hard to focus on work while being surrounded with happy dogs and cute puppies! And not one "spillage"!
Lee Stephens from Action Image Productions said: "It's easy to forget that whilst these shoots are fun and challenging, we never lose sight of the fact you are dealing with animals and they need as much, if not more, care and attention as any talent. Having the right team of professional's onsite is a must to protect everyone as well as deliver the results to the client."
actionimageproductions.com
stageastudios.com
skylark.agency
More Casting and Agents Stories