Broadcast News
13/10/2015
New Animal Lectures Event Confirmed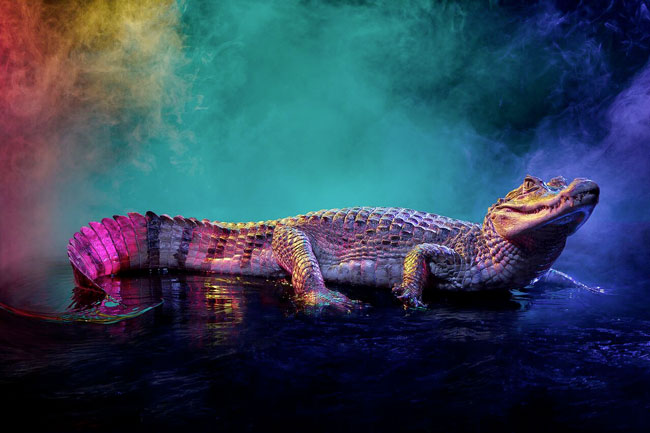 Following the success of the Animal Lectures 'Caiman Crocodiles' event, which saw live crocodiles take over Crouch End, animal photographer and conservationist Andrew McGibbon – in collaboration with Hornsey Town Hall Arts Centre and expert animal co-ordinator Trevor Smith from Animals Work – has announced the second lecture in the series.
This time, the event will see a pack of wolves, a committee of vultures, and an assortment of spiders, snakes and insects visit the Town Hall, allowing the audience to get up close and personal to the creatures. The lecture is called Wolves and Vultures.
The project will see still images meet live demonstration, education and performance art, and will provide a unique insight into the lives of the animals on show.
"Photographing this series of images in blisteringly colourful lighting and in front of a live audience made for moments with the live crocodiles that could not have been created in any other way," commented Gallery Stock, regarding Andrew McGibbon's first lecture, Caiman. "The energy of these dramatic photographs stipples off the screen and page, daring the viewers to ignore it."
"Andrew McGibbon has blown us away with his latest photo series," added The Fox is Black.
McGibbon has worked on a number of projects, with the aim of raising awareness about how people treat the world and the animals that live in it. In his newest project, audiences will be invited to watch him create his new work while animal handler Trevor Smith will share facts about the animals and anecdotal stories of his experience with all creatures wild and formidable.
The 90-minute event includes the photo shoot, as well as a Q&A session with both Andrew and Trevor and will be held at Hornsey Town Hall Arts Centre on 1 November. In keeping with its close proximity to Halloween, the event will have an added spectacle of the 'Creepy Crawly Cavern'. Held separately and running throughout the day, it offers hands-on interaction with snakes, spiders and other terrifying creatures, providing people a chance to appreciate the animals' beauty – or face their phobias.
Primarily, McGibbon works as a commercial and fine art photographer, but he also dedicates his time to shooting for non-profit organisations. He has been featured in Trend Hunter, Featureshoot, Shortlist, Wired, and Design Cloud, to name a few. Most recently, he has worked on the #endbackstreetbreeding campaign for Battersea Dogs and Cats Home, as well as a campaign for the SPCA in South Africa.
'Wolves + Vultures' is Andrew's fourth major fine art project, following Caiman and two other major works on horses and snakes: All the Wild Horses and Slitherstition.
Commenting on his work, McGibbon said: "The aim of all my fine art animal projects has been to help people see an animal in a new way and thus, hopefully appreciate them anew. I want to help people feel connected to the earth, and help them appreciate that we a part of a system – a system that requires each part to live in harmony. Part the core aim of the project is to help people understand the need to respect and conserve these beautiful creatures."
Trevor Smith, Managing Director of Animals Work, is world-renowned as an animal psychologist, who works to ensure that any animals taken into a public environment only interact with the public in a way that fits with their natural abilities, and that all animals are comfortable with what's asked of them in unusual conditions.
Tickets, as well as further information regarding the event, can be found via the Hornsey Town Hall Arts Centre
here
.
www.animal-lectures.com
www.animalswork.co.uk
(JP/LM)
More Casting and Agents Stories