Broadcast News
12/04/2017
Follow The Yellow Paw-Print Road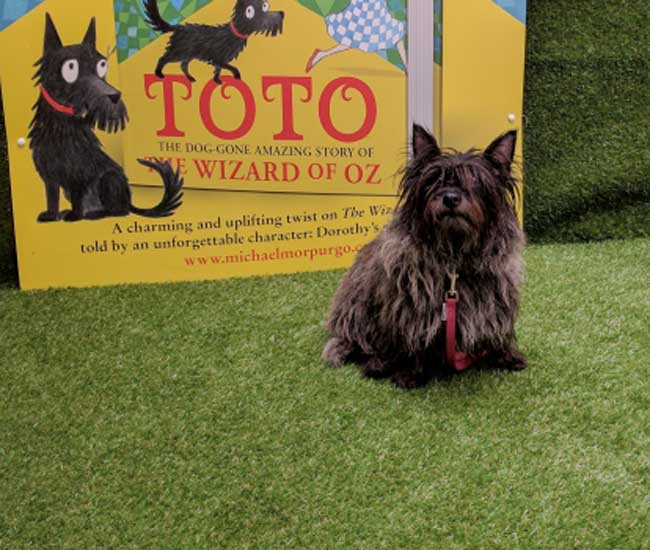 The world-renowned London Book Fair 2017 took place earlier this month. The arena was set for Korra's first appearance as a lookalike for the world's most famous dog... Toto!
Written by the masterful storyteller Michael Morpurgo, Toto – The Dog-Gone Amazing Story of The Wizard of Oz, vividly retells the classic narrative from the perspective of Toto the dog.
The intelligent and energetic Korra, the Cairn Terrier was chosen to be part of the amazing launch event. The likeness is uncanny between Korra and Angus, who stared as Toto in the classic 1939 film musical.
They are twins in many different ways, especially the eyes. The Cairn Terrier is one of the oldest of the terrier breeds, originating in the Scottish Highlands and recognized as one of Scotland's earliest working dogs. Nowadays these dogs are very rare, especially in London, so PetLondon Models was very lucky to have found Korra.
Korra and her owner Lisa visited PetLondon a week or so before the London Book Fair to have a trial run for the big day itself. Korra, from the moment she entered, took everything in her stride. Instantaneously, every single person fell in love with her at our offices. Her inquisitive nature had her sniffing around the showroom like a hyperactive kid in a candy shop.
Korra's mum was quick to demonstrate how incredibly well trained and intelligent Korra was; her penchant for veggie dog treats was a sight to behold. For a dog so small she could leap three and a half feet up into the air without breaking a sweat. We need her exercise regime pronto!
Various tricks were performed at ease, including the crowd favourite – a simple 'Bye Bye' command spoken by Lisa, where Korra jumped onto her back legs, stood up straight and, with extraordinarily skill, waved her paws in a goodbye fashion. It was so cute.
We took Korra and Lisa, downstairs to our in-house studio set, where we had set up a special basket for the star to sit in. After only a couple of attempts and a handful of treats later we managed to snap this delightful shot. It captures her personality completely.
On the day itself, Korra's first assignment was to follow the yellow brick road for a heartwarming shot with Michael Morpurgo himself. Her delightful personality charmed everyone in sight, learning within minutes some new tricks for the promotional shots. This amazing set was spectacular with the technicolour rainbow, the iconic yellow brick road and the Wicked Witch of the West's red high heels.
Emma Chichester-Clark provides the book's illustrations of Toto. Famously a dog-owner with an illustrative blog about her own Plum Dog, she brings amazing, lush colour illustrations to the book, conjuring this vivid story to life.
This amazingly talented dog excelled in her duties as a faithful companion to Michael on the big day full of adventure, akin to Dorothy and Toto themselves. During the event, Korra's playful and attentive attitude entertained the press and guests whilst they waited to speak to Michael.
After a hard day's work, the terrier curled up under a desk dreaming of the road to stardom. These were definitely somewhere over the rainbow, way up high and the dreams that she dreamed of once in a lullaby.
blog.petlondon.net
Article and image credit: PetLondon.
(JP/LM)
More Casting and Agents Stories