Broadcast News
21/04/2017
PlayBox Technology To Demonstrate Broadcasting In The Cloud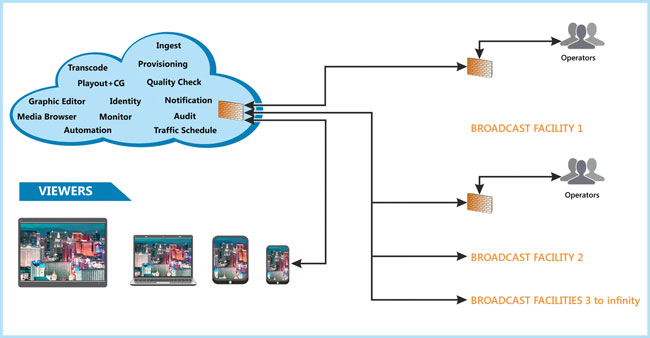 At NAB 2017, PlayBox Technology will demonstrate the capabilities of CloudAir rapid-implementation broadcasting in the cloud.
Van Duke, US Director of Operations, PlayBox Technology, explained: "The demand for fast-startup channel playout is growing rapidly as broadcasters explore increasingly creative use of 'red button' opt-overs to supplement their main programmed channels. At NAB this year we will be providing live demonstrations of our CloudAir solution running on Amazon Web Services (AWS), one of the world's largest and most highly regarded cloud platforms. This is a real must-see. Working with AWS allows new broadcast channels to be activated very quickly and with extreme cost efficiency. CloudAir will be available on AWS Marketplace from Q2 2017.
"CloudAir from PlayBox Technology accommodates permanent channels or, for example, a short-duration red-button service providing background information to a secondary channel. Easy to establish and to operate, the service is also very accountant-friendly because both the CDN and CloudAir itself are available in a pay-as-you-go model."
Van Duke continued: "How does it work in practice? A customer calls us and says 'We need a new channel to go live tomorrow'. SaaS offerings will be available from PlayBox Technology and AWS Marketplace. Broadcast quality IP content is then delivered from the AWS Cloud via AWS Direct Connect, AWS Cloudfront or the customer's choice of CDN partner. Content distribution choices include streaming live to the customer or via fiber connection back to the customer head-end rack, or both. CloudAir provides scheduling and all the other operational features needed to run an efficient television channel. These can be operated from the internet browser of any desktop PC, including latest-generation models running Windows 10."
"CloudAir is delivering on its promise to give broadcasters greater operational flexibility without increasing their capital investment," added Don Ash, president, PlayBox Technology. "It also offers uniquely powerful capabilities as a hybrid with our established Neo server-based solution which continues to be in very strong demand."
New CloudAir features to be demonstrated at NAB 2017 will include a transcoder capable of handling multiple file containers and formats including MPEG PS/TS, MXF, QT, AVI, MP4, GXF, MPG2, H.264, ProRes, DNX HD and MJPEG. Also new are an enhanced graphics editor template preparation interface, improved playlist editing, advanced playlist export to EPGs and automated linking of stored assets.
PlayBox Technology will exhibit at NAB 2017, Booth N5311.
www.playboxtechnology.com
(JP/MH)
More Content Management Stories