Broadcast News
10/04/2017
PlayBox Technology Completes Airport Project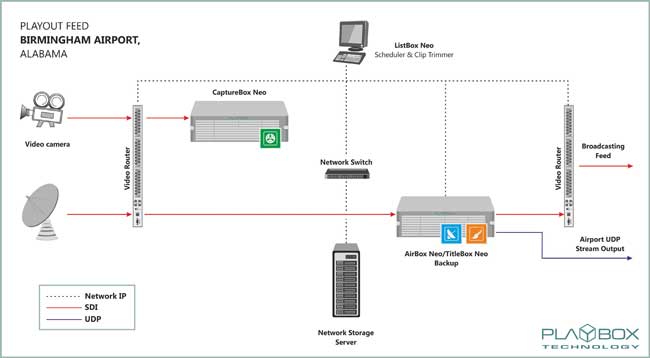 PlayBox Technology has announced the completion of a project at Birmingham Airport, Alabama.
The installation comprised of a latest-generation AirBox Neo and TitleBox Neo, enabling prepared or live graphics and titling. A local television broadcaster has won the contract to provide regional, national and worldwide video and audio content complete with text overlays.
Discussing the project, Van Duke, USA Director of Operations, PlayBox Technology, said: "This is a very impressive example of tightly focused broadcasting. The requirement was for a compact and efficient solution that could be operated in a mix of live and automated modes. The concept is highly innovative, combining audio and video into an IP stream inside an AirBox Neo server and then forwarding the stream via optical fiber from the playout studios to the airport.
"There the stream is decoded to HDMI and fed straight to monitors located throughout the airport terminals. AirBox Neo incorporates a streaming preview output which generates a confidence display without needing any extra hardware. The system is fully operational and working well, streaming up to 10 hours of news and file-based content every day. AirBox Neo also allows the system manager to take a traffic log and import it so that specifically targeted commercials can be inserted into the playlist. The Birmingham Airport project demonstrates the great versatility of the channel-in-a-box concept in general and AirBox Neo in particular."
"Scalability is a central feature of the AirBox platform, enabling a single operational concept to be deployed on any size from a multi-channel multi-language network to a specifically zoned audience," added Don Ash, president of PlayBox Technology. "The potential for dedicated television services in the corporate sector is enormous. Established broadcasters have exactly the skills required to achieve success."
www.playboxtechnology.com
(JP)
Top Related Stories
Click here for the latest broadcast news stories.