Broadcast News
29/11/2019
SIP Connectivity; IP Interoperability Using Public Networks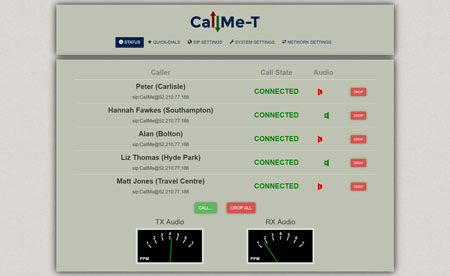 Thanks to SIP technology – the key to IP connectivity - Broadcasters enjoy the freedom to create unique content from more locations than ever before and without the need for dedicated connections.  So what is SIP and why is it important?  SIP is used for initiating, maintaining and terminating real-time connection sessions that include voice, video and messaging applications, multi-media communication sessions in Internet telephony for voice and video calls, in private IP telephone systems, in instant messaging over IP networks as well as for mobile phone calling over 4G / LTE.  Without it, the possibility of connecting one-to-another on a dial-up basis as in normal telephony, would not be possible.  
SIP is only involved for the signalling operations of a media communication session and is primarily used to set up and terminate voice or video calls.  It can also be used to establish two-party (unicast) or multiparty (multicast) sessions and also allows modification of existing calls which may include changing addresses or ports, inviting more participants and adding or deleting media streams.  Without it, IP Phone Systems would not operate and progressively in Broadcast applications, SIP has found its place in easing connectivity and compatibility especially over mobile networks.  
So in summary, SIP is a text-based protocol and in simple terms precedes the media stream giving information about the proposed connection such as "this is me". . . "I am here at this IP address". . . "this is the port for sending media" . . . "this is the port for receiving media" . . . "this is the codec that I am using" . . . "other useful stuff" sent from both the initiating codec and replied to by the receiving device.  As Sergei says – "simples" . . . However, whilst most codecs allow SIP connectivity, having spent many hours in the lab checking compatibility, it seems that some are "more compatible than others".   
Whilst SIP has been the common connection for VoIP telephony, it has only recently become sufficiently standardised in Broadcast Video and Audio and in the meantime, manufactures have provided their own means of traversing NAT Firewalls –indeed with great success as Comrex does with its SwitchBoard Server which provides easy and reliable connectivity between Comrex codecs registered to their server – being first in the field to offer this capability.  This is of course within one manufacturer's products and as part of integrating VoIP telephony with Broadcast connectivity, many European Broadcasters now use their own dedicated SIP servers that take care of connectivity and provide compatibility to compliant SIP Codecs and this looks to be the future of broadcasting for connectivity using IP.     
CallMe-T was originally conceived as a low-cost back-end for CallMe Click-&-Connect which uses SIP for connectivity.  This allows connection from behind firewalls and NAT Routers as happens with mobile, 3G and 4G connections as the SIP Protocol takes care of all the port-forwarding and address translating needed for reliable connectivity.  As such, CallMe-T is fully SIP-compatible, as is CallMe Click-&-Connect which works with pretty well all IP Audio Codecs.  Of course it is possible with CallMe to connect directly by streaming audio straight to the studio codec's public or port-forwarded IP address which is how most IP Audio codecs have worked so far but full SIP compatibility provides future-proof IP audio from the field.  
Just released is 2.1 CallMe Firmware which provides amongst other things, SmartStream™ whereby a user can select multiple audio streams to different destinations with the possibility of selecting Left, Right or Both (Stereo) to any destination.  This lets a single CallMe-T operate as a two separate mono codecs to different destinations.  Also included is the possibility to not only use the USB connection for connecting an audio device but also provides keyboard connectivity and USB control forwarding commands directly from a host.  
CallMe Click-&-Connect uses SIP and the Vortex CallMe (SIP) server is hosted on AWS Amazon Web Servers for resilience and reliability.  Of course any SIP server can be used and some Broadcasters choose to use their own SIP server for CallMe but on the other hand, the CallMe Server can host other codecs providing fully SIP-compatible reliable and resilient connectivity for any SIP-compatible IP Audio Codec.  The Vortex CallMe Server also provides call-by-call analytics both live and historic which proves extremely useful if for any reason a connection is less than 100%  
www.vtx.uk
Top Related Stories
Click here for the latest broadcast news stories.