Broadcast News
27/02/2020
Barix To Display M400 SIP Opus Stereo Encoder-Decoder At NAB 2020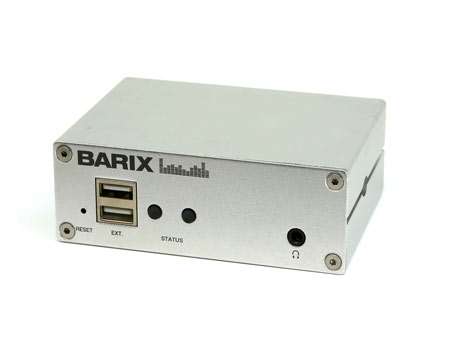 Barix has introduced a new second model in its SIP Opus Codec family of Audio over IP transport solutions.
The economical M400 SIP Opus Stereo Encoder/Decoder combines the simplicity and versatility of SIP-based link negotiation with the exceptional quality and efficiency of the Opus compression format, forging an ideal IP audio delivery platform for studio-to-transmitter (STL), studio-to-studio (SSL) and remote contribution applications. The company will showcase the new device in booth C1139 at the 2020 NAB Show, taking place April 19-22 in Las Vegas.
The M400 SIP Opus Stereo Encoder/Decoder features the open standard, royalty-free Opus audio compression format, which has gained significant popularity for its superior audio quality, bitrate efficiency and low latency. The new hardware device combines the advantages of Opus with SIP functionality to dynamically establish seamless links across SIP-compatible telephone, radio or other communications systems, enabling the codecs to 'dial' other SIP devices or phone numbers and automatically negotiate a transmission link for audio streaming.
Leveraging SIP-based connectivity enables broadcasters and producers to move away from the common legacy approach of using costly and technologically outdated ISDN circuits. For remote contribution from the field, SIP enables dynamic link establishment by 'dialing' registered SIP endpoints without the need for static, public IP addresses. The elimination of public IP addresses brings similar benefits to STL and SSL applications while further increasing security.
Built on Barix's high-performance IPAM 400 audio module, the new M400 can be configured as either an encoder or decoder – switchable via the device's intuitive web interface – and offers stereo, line-level analog audio input or output with RCA-type connections. Fully interoperable with third-party SIP-compliant, Opus-compatible products, the M400 also features advanced integration functionality including audio level supervision with SNMP trap generation and a serial tunnel (RS-232) for control of external devices or for transport of metadata from the encoder to the decoder.
The M400 SIP Opus Stereo Encoder/Decoder joins the previously announced, mono, bi-directional MA400 SIP Opus Codec, which offers analog microphone or line-level input and 5W 8-ohm or line-level output in a PoE-powered configuration and now also includes RS-232 tunneling support.
The M400 SIP Opus Stereo Encoder/Decoder and MA400 SIP Opus Codec are available immediately.
www.barix.com
Top Related Stories
Click here for the latest broadcast news stories.