Broadcast News
12/03/2018
LED Creative Styles BRITs Official After Party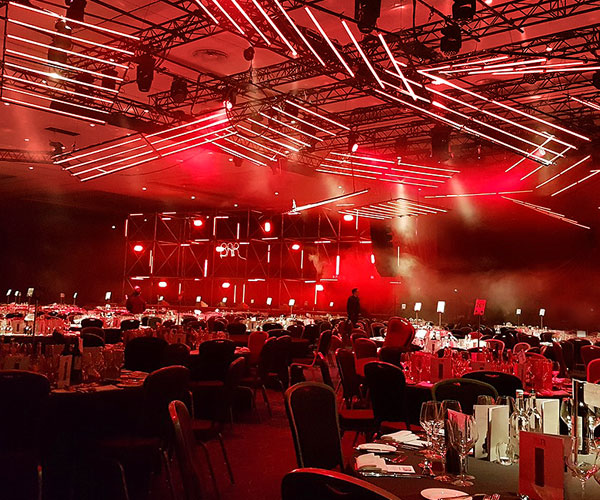 LED Creative has worked alongside Lighting Designer (LD) Stuart Pring to provide light installations for the BRITs after party.
LED Creative used its Sigma Pulse Wand to add colour to the O2 Intercontinental, London.
LD Mr Pring implemented the Pulse Wands on the ceiling to create a layered look in the venue.
Talking about the installation, Mr Pring said: "For The Brits Official After Party we used around 170 Pulse Wands built into frames and hung over the stage and dance floor area. This created a 'big' look which was particularly effective during the 'club' part of the night, helping bring a wonderful dynamic to the room."
Available for rental as 'plug and play' fixtures, the LED Creative Sigma Pulse Wands are a low energy, tubular illumination system that combines both the brightness and look of traditional neon/fluorescent fixtures with the versatility, intensity and highly controllable performance of LED technology.
Mr Pring continued: "The Wands offer lots of chase possibilities via their in-built effects. The range of colour possibilities are great too; especially the cold daylight and tungsten colours you can get from them."
Commenting on LED Creative, he added: "Their products are very good and the crew's always brilliant. I used the Pulse Wands on The Brits Party as well as the recent MTV EMAs Red Carpet show. I also made use of their standard Wands on The Teen Awards and the UK Comedy Roast series - simple to use and very capable of delivering some great effects!" 
www.led-creative.co.uk/
More Broadcast Lighting Equipment Stories