Broadcast News
28/09/2018
Kino Flo Debuts New L80 And L40 LED Image Fixtures At IBC 2018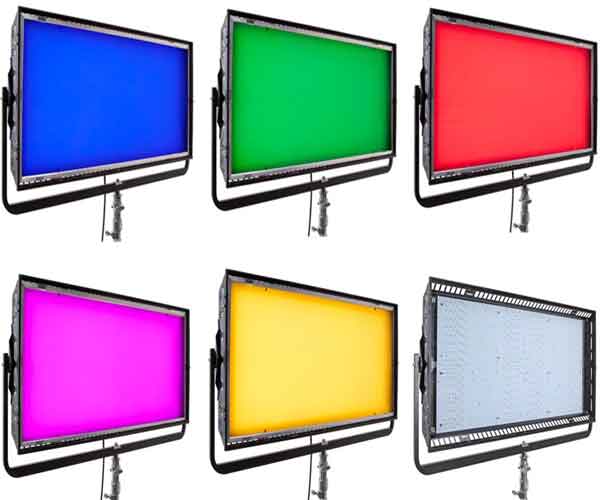 Kino Flo Lighting Systems unveiled the new L80 and L40 LED Image fixtures at the IBC show in Amsterdam.

The new style Image LED fixtures appear outwardly like the thousands of Image legacy fluorescent fixtures on sets around the world, but the L80 and L40 LED lights operate like Celeb, Diva-Lite and FreeStyle LED's.

The company showed its new retrofit kits to convert legacy Image fluorescent fixtures into state of the art LED luminaires. Repurposing the legacy Image studio series products makes it easy and affordable for customers to transition their used inventory to the latest Kino Flo LED technology that comes standard on the company's LED's.

"Over the past few years there has been growing interest in repurposing fixtures from fluorescent technology to LED designs," according to Kino Flo President and Founder, Frieder Hochheim.

New L80 and L40 LED Features
The L80 and L40 fixtures join Kino Flo's family LED soft lights. One of the largest LED's in the industry, the L80 measures 54" x 28" (114cm x 66cm). The L40 is 54" x 17" (137cm x 43cm). Light output is 185FC/1251 LUX at 3 meters but draws 2.50A (230VAC). Roughly, twice the light output of the industry standard Image 87 fluorescent fixture. The L40 light output is half the lumens compared to the larger L80.

The L80 and L40 "All in One" design includes standard DMX in/out ports for cable as well as wireless DMX connectivity (Lumen Radio®). Additional specifications include universal AC voltage input 100-240vac (L80 = 2.5 Amps at 2300VAC; L40 = 1.25 Amps at 230VAC). 

Like all Kino Flo engineered LED lighting systems, the new L80 and L40 include the popular TrueMatch® Firmware 3.0, with a display showing easy-to-use menu and color management system, the popular White Light mode >96 photo rendering, full correlated color temperature selection (2500K to 9900K), Hue Angle & Saturation mode, Gel Presets, RGB mode, and the new Lighting Effects mode.

In addition, the new L80 and L40 controllers include built-in Lumen Radio wireless DMX, universal VAC input, advanced square wave and linear dimming, plus some added features unique to the Kino Flo LEDs.

Retrofit Kits
Kino Flo supplies pre-assembled, LED panels (complete with Kino Flo's two white light emitters and full RGB emitter array) along with a specially designed "LED control cover" with all the electronics and controls built in.  The new LED cover will replace the existing Image 80/85/87 or Image 40/45/47 covers, and conforms to ETL electrical standards. 

Repurposing fixtures with Kino Flo engineered LED panels and control electronics (including the new TrueMatch® Firmware 3.0) breathes new life into the older Image shells. Like the L80 and L40 LED fixtures complete, the retrofit kits include controller covers with built-in Lumen Radio wireless DMX, universal VAC input, advanced square wave and linear dimming, plus man other color management controls.
More Broadcast Lighting Equipment Stories