Broadcast News
16/02/2018
In Conversation With Gavo Lighting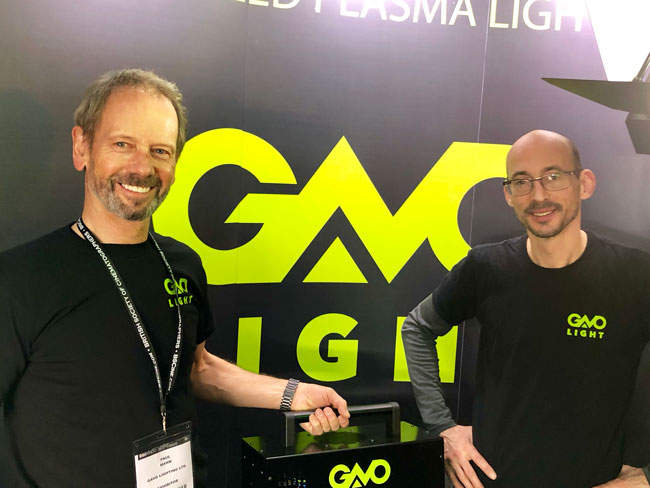 Your stand was buzzing at BSC; what was the greatest talking point?
Visitors to our stand at the BSC show were curious at first and blown away second. Many had heard rumours of plasma lighting and the major step forward that it could bring, but most did not believe the benefits would ever be realised as they are so radical.
Once they saw the evidence of what can be achieved with a Gavo Light they were hungry to know when they could have them. The brightness and colour of the lamps is what first attracted them but when they realised we were running a 4-lamp high speed shoot off one ring main the cost savings offered stunned them. Being able to shoot with our daylight lamps and switch to high speed on any location – without a huge generator truck and cables to haul around – was seen as a game changer (and a wistful thought of all the high speed shoots that they had not been able to do in the past because of the budget busting costs that it would normally entail).
Other people were pleased to see the sensible modifications we had introduced to an old and tired format including a patented system of holding the accessories in front of the lights. Lenses, gels, diffusers, etc. can be dropped securely in front of the bulb in seconds, putting an end to clips holding scraps of lighting gels onto barn doors for one use only. Our gel frames can be used time and again due to the low heat output and simplicity of the frames supplied with the kit. Black Wrap around the gaps in a lamp is a thing of the past thanks to the light tight surround of the filter box. Barndoors that can rotate freely but cannot fall off as they are double locked into the filter box means the lamps can be used overhead with confidence. Sensible, practical, patented steps forward.
Aside from the lights, there was great energy coming from you guys, is this key to your success?
As a team we knit together with complimentary skills and no egos to battle against. The energy within the team is what has taken us through the highs and lows of bringing such a huge technological step to market. The belief of our in-house lighting gaffer Rob Gavigan that it was right for the film industry, coupled with the genius of bulb inventor Boris Lutterbach, inspired our design team, headed by Steve Loible, to create a product that is easy to work with and looks great. Every part of the team had a critical and complimentary role in bringing these lamps to market; no one person could have done it alone and that has made us a true team. A collective positivity through the 10-year development journey is what you saw evidence of at the show.
There are some great success stories from UK companies in this industry, why do you think this is?
Grit. Depth of knowledge. Faith. We tend to be a nation of knockers rather than supporters of innovation and courage. People like a good failure story. Those that buck this attitude tend to do so with absolute determination to prove that things can be done and life is good. Hence the surprise for so many people at just how innovative and world class much of our industry is. We are quiet pioneers in a world of shouters. Even our fellow countrymen sometimes fail to see the success that sits on our own doorstep. This is a product conceived, designed and built in the UK; we should be proud of that.
Historically, has lighting been an issue for high speed filming?
Filming at high speeds has been a nightmare of technical challenges and cost. Or, at least it used to be before plasma lighting. The inefficiency of most lights, including LEDs, (they are still only a fraction of the efficiency of a plasma light), means that the power required and heat produced is prohibitive for the budget or that the heat created destroys the subject. 90% of the power going into a tungsten lamp will come out as heat; 80% of the power going into a Gavo light comes out as light – daylight with a CRI of 97.9. Many lights also flicker because of the AC that is turning them on and off at a high rate which shows up as strobing. The Gavo Light is flicker free at any frame rate; it is like a mini sun producing flicker free daylight. LEDs try to cheat the colour tests by mixing their colours to fool the spectrometers with gaps between measured spikes. They create an odd light that most DoPs hate as it is so artificial and flat.
The Gavo light runs so cool that you can put your hand right up onto the lens. This opens up possibilities for filming food (no melting chocolate biscuits or need for models), natural history (plants, insects, birds and mammals in sunlight rather than cooked in the lights), beauty with natural skin tones (no more smoking hair and skin).
How are the lights powered? Do you need a specific power supply?
A 13 amp domestic socket is all that is needed to run a Gavo Light. In fact, you can run two Gavo Lights from a single socket or four from a standard ring main. At the show we had four lamps running to demonstrate this (three in our softbox prototype and one lamp on a stand). Filming 4K at 1000fps and F8 we were achieving a huge depth of field and true colours through a range of reds, greens, yellows and blues on our table set, (with a rat trap and Weetabix experiment thrown in). This means that you can do a high speed shoot (or any shoot) on the 20th floor of a block of flats, simply by plugging the lights into the wall socket. If the lights are too bright you can dim them down to 20% to create moody images in natural looking light.
Are the lights durable and are they easy to transport?
We have made a point throughout the design process of considering how they lights would be used, not just getting them working. Being able to carry a pair of them without the frame or handles banging into your legs as you walk was tested and adjustments made for comfort. They weigh only 12kg each and so can be lifted into a stand with little effort. We pack them into a flight case containing two lamps, power supplies, cables, barn doors, lens and filter sets, so that you effectively have the lighting for a table top shoot in a single box.
Are they expensive to maintain? What is the bulb life like?
We were demonstrating the durability of the bulbs at the show by hammering them onto anything solid that we could find. Made of quartz, they are pretty robust and would be a challenge to break. Having a lifespan of 40,000 hours we equate that to approximately 11 years of normal shoot use. The bulb will probably outlast the housing! Quite an improvement from the bulb changes every few weeks for their counterpart tungsten bulbs.
We had a question from a stop frame animation studio about using our lights. Because each bulb is colour matched when made and has no colour or brightness fade over its lifespan, they could shoot a film for a year or more without changing a bulb or camera setting (never mind all the post-production to correct bulb age deterioration). This would save them so much time and money and simplify their whole animation process.
Maintenance is pretty minimal as everything in the system is solid state. Their efficiency and low power requirements means a production does not have to cart around a huge generator or film in a studio with massive power supplies (and the subsequent power bill). Looking at the cost of an equivalent lighting kit and crew bill we believe Gavo lighting may offer significant savings and put high speed filming lighting costs into the brackets of a standard shoot.
Where can the lights be purchased?
The lights are for hire and lease only as it is important that we maintain the supreme quality of this premium product. We want to ensure that as our development team introduce any updates they will be incorporated into all the lamps. There will be no such thing as an 'old' Gavo Light.
Can we expect anymore product releases for 2018?
Work on the current lamp (the SL1) will always continue as we roll out further efficiencies and innovations. We've had a major breakthrough since the BSC show with the introduction of a near-silent running lamp so sound stages can confidently order the Gavo Lamp as part of their kit list.
We are currently developing a lamp equivalent to a 6K MSR (daylight) light in terms of output. This will be fitted within a chassis the same size as our current 2.5K equivalent. More than double the output from the same compact package, and still running off a single 13 amp socket if required.
If you like the idea of what we make but need something slightly different in format, size or shape then let us know and we may be able to make something bespoke to your needs. It is the film industry after all!
gavolighting.co.uk
More Broadcast Lighting Equipment Stories