Broadcast News
20/02/2018
LED Creative Add Sparkle To Dancing On Ice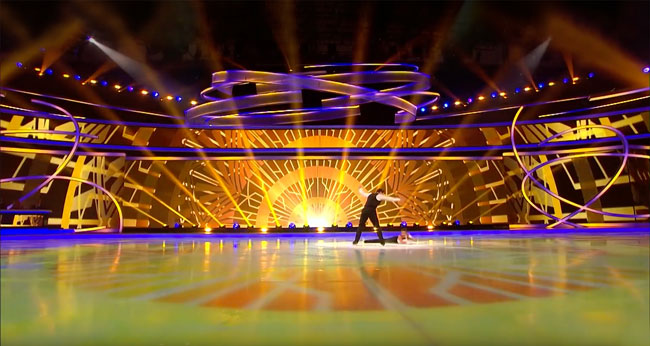 LED Creative has provided more than 1,600 metres of their Alpha 60 RGB system, as well as an additional 75 metres of their Sigma 60, for the new series of Dancing on Ice.
Housed within a custom-built studio structure, the Dancing on Ice set is a versatile space featuring an interview and judging dais swathed in neon tones, plus the all important ice rink. Against a bank of video walls, the rink set has been formed to combine the show's 'ice swirl' branding with a flexible lighting installation by Lighting Director Dave Davey that can adapt instantly to reflect the myriad of musical styles that accompany each performance.
Scenic Designer Dominic Tolfts applied the LED Creative Alpha and Sigma systems throughout his design, adding highly controllable colour, movement and intensity to the set pieces, to create a dynamic backdrop to the show.
Working with Lighting Gaffer Dave Hallet, LED Creative's Project Manager Tim Rees and Gaffer Brad Purse, the crew also employed the company's BYTE Controllers and silent-running BIT Control units to allow maximum precision and artistic control over the LED installation with minimum programming time.
Dominic Tolfts said: "Working with LED Creative is always a pleasure and their attention to detail is second to none. The versatility and ease of use of the led systems that they supply are brilliant. The products give the unique elements of the set design individual personality and extensive textures, effects and colours."
Tim Rees, Project Manager, added: "The Dancing on Ice team have created an incredible set that can be adapted to suit almost any style of performance. The show goes out live each week, so there isn't time to make elaborate changes. Dominic's design is both exciting and versatile, the clever equipment choice has helped deliver an almost limitless range of looks."
www.led-creative.co.uk
More Broadcast Lighting Equipment Stories