Broadcast News
13/10/2017
Procam Projects Assists With Black Sabbath Farewell Show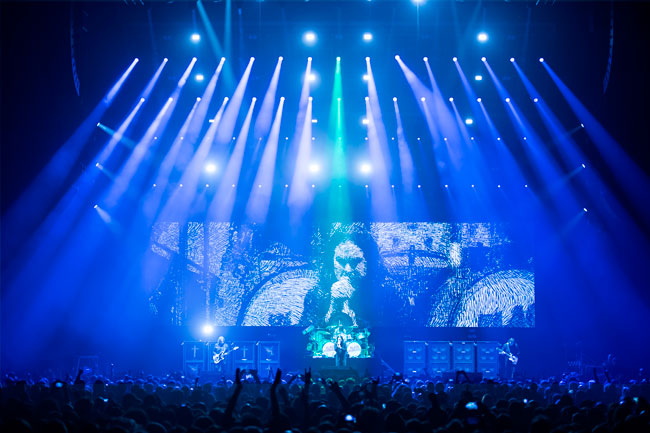 Earlier this year, on 4 February, Black Sabbath performed their last show in Birmingham's Genting Arena as part of their farewell tour, The End.
To chronicle the sold-out, historic final concert, Procam Projects was brought on board in partnership with Eagle Rock Entertainment, director Dick Carruthers and producer Jeremy Azis to film the concert for the documentary, The End of the End. The documentary screened at more than 1,500 cinemas worldwide for a one-night-only event on 28 September 28th. It is set to be released this winter.
Procam Projects prepared, delivered and set up 13 Sony F55s, which were chosen for their 35mm full sensor and filmic look sought by Carruthers. The cameras were racked through a centralised cine gallery, enabled by Projects' inventory of Ereca Cam Racers and Stage Racers. Lenses were provided by Take 2, including the HAWK 150-450mm, Angénieux 24-290mm, and ARRI 9.5-18mm, as well as more traditional cine lens such as CN7s and CN20s. Through its bespoke lens control system, Projects fully integrated these lenses into the cine workflow in an OB environment.
"Being asked to facilitate the recording of the final performance of this legendary heavy metal band was a challenging and exciting opportunity for Procam Projects," said Vicky Holden, Managing Director, Procam Projects. "As a result of the investment in the latest fibre and 4K technology, we were able to offer Eagle Rock a cine approach that otherwise would not have been possible."
Peter Worsley, Eagle Rock Films Supervising Producer, added: "Having worked with Procam on documentary, as well as multicamera shoots recently, we were confident they would be able to deliver the quality result we needed."
Image credit: Ross Halfin.
www.procam.tv
(JP/MH)
Top Related Stories
Click here for the latest broadcast news stories.