Broadcast News
28/06/2017
Band Pro Munich Supplies Raptor Cine Macro Lenses To ARRI Rental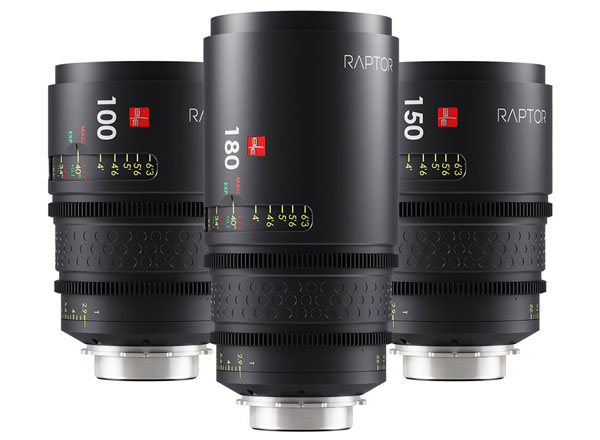 Band Pro Munich has delivered its first sets of Raptor cine macro lenses from IB/E Optics to ARRI Rental. The renowned supplier of film rental equipment supports film and TV productions worldwide, including many in Hollywood.
The Raptor series represent the first cinema lenses to be developed by the Bavarian manufacturer IB/E Optics. From now onwards, they will also be available for hire from ARRI Rental. Exclusive worldwide distribution of the Raptor family rests with Band Pro.
On the technical side, the 1:1 macro lenses are remarkable not only for their outstanding macro quality with an image circle greater than 50 mm, a T2.9 aperture, robust and durable quality and cine mechanics.
The set features focal lengths of 100mm, 150mm and 180mm. IB/E Optics is known worldwide as a manufacturer of cutting-edge adapters and extenders. For years closely associated with ARRI Rental, IB/E Optics has been manufacturing lenses for ARRI's Alexa 65 camera. Band Pro Munich is supplying ARRI Rental not only with sets featuring the PL mount but also custom productions with the XPL mount that only fits the ALEXA 65 camera. The fact that they cover one of the largest and best known sensors is further proof of the outstanding quality and future-proof technology underpinning the Raptor lenses.
Martin Kreitl, Head of Sales & Marketing with Band Pro Munich, said: "With the XPL version and ARRI Rental as a customer, Band Pro Munich and IB/E Optics have demonstrated once again that the focus of their technology is not confined to the present but embraces the future as well. Raptor lenses remain the only VistaVision macro lenses capable of satisfying high-end cinematographic requirements and capturing hitherto undreamed-of images."
Band Pro Munich began shipping the Raptor cine macro lenses in January 2017. They are already in use in many countries of the world.
raptorlenses.com
(MH)
Top Related Stories
Click here for the latest broadcast news stories.