Broadcast News
01/06/2017
ARRI Rental To Exhibit ALEXA 65 Lens Range At Cine Gear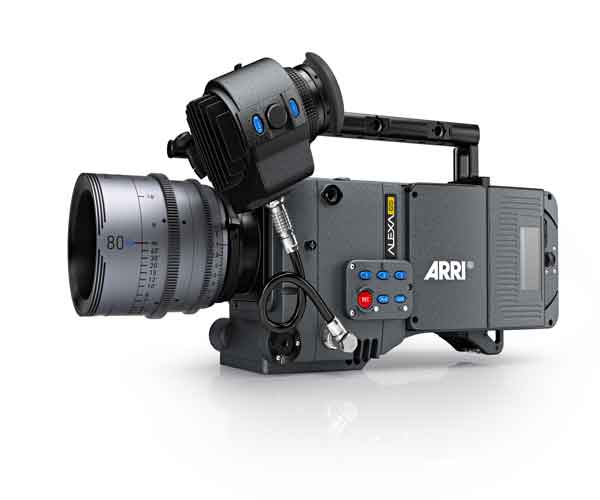 ARRI Rental is showcasing its range of full-coverage 65 mm format lenses at Cine Gear 2017 in Los Angeles.
With the popularity of ARRI Rental's exclusive ALEXA 65 camera system continuing to increase, not just for high-end feature films but also diverse television and commercial productions, demand for richly varied lens options is strong. The line-up of four distinct 65 mm lens series first announced at Camerimage 2016 is now in use on multiple projects, with cinematographer feedback directly influencing technical developments and entirely new optics being added as a result of creative partnerships with filmmakers. This collaborative approach to the ALEXA 65 lens program reflects ARRI Rental's commitment to personalized service and support on a global scale.
Originally the ALEXA 65 system was launched with two lens series: Prime 65 and Vintage 765. The Prime 65 lenses are high-performance modern optics with full Lens Data System (LDS) functionality, and have recently been joined by seven higher speed Prime 65 S lenses, with a smooth, slick look. The Vintage 765 lenses were built in the late 1980s for the ARRIFLEX 765 65 mm film camera; they offer a filmic look and gentle focus fall-off.
Anthony Dod Mantle ASC, BSC, DFF used both Prime 65 and Vintage 765 lenses on the Oliver Stone film Snowden. "The first four or five weeks in Munich involved quite a bit of VFX, so I shot with the Prime 65 lenses and they performed perfectly," he said. "But then we were travelling to Washington, Hong Kong and Hawaii, with less VFX, and I instinctively felt that I needed a change. There wasn't time to test the Vintage 765 lenses, but I took them because I knew they were beautiful and softer, and the wrap-around and fall-off would be different. It was a leap of faith and they are slightly more irregular in the colors, but it was an intuitive thing and I was very pleased I did it."
Other films to have paired the ALEXA 65 with Prime 65 lenses include Thor: Ragnarok, Life, War for the Planet of the Apes, Transformers: The Last Knight, The Great Wall, Sully, Planetarium, The Solutrean and The Dark Tower, which also used Vintage 765 lenses. Newton Thomas Sigel ASC worked entirely with the Vintage 765 series on Reginald Hudlin's upcoming movie, Marshall.
ARRI Rental's Prime DNA lenses are the most varied and bespoke of all ALEXA 65 optics. An eclectic and ever-evolving collection of lenses, the Prime DNA series mainly comprises vintage glass, often exhibiting unusual but highly creative and emotionally engaging characteristics. Among the first cinematographers to make use of Prime DNA lenses was multiple Academy Award-winner Robert Richardson ASC, who chose them for the Andy Serkis-directed feature film Breathe. "Lensing is one of the most important issues," Richardson says of the ALEXA 65 system. "It's vital that we have a choice ranging from vintage and softer glass to newer lenses with modern coatings, so that we can move through different environments and optimize the flaring and contrast for specific situations. ARRI Rental gave me a stunning set of lenses."
Greig Fraser ASC, ACS, who used the ALEXA 65 on Rogue One: A Star Wars Story, turned to Prime DNA lenses when he selected the system again for Mary Magdalene, directed by Garth Davies. "Working closely with ARRI Rental we were able to develop lenses that had the right look and feel for the film; I used them in conjunction with some of my own lenses, so we had a really nice and rounded mix of glass with the qualities we needed," said Fraser. "As cinematographers we should want more tools. If we have more lenses then there are more possibilities, and we all benefit from those possibilities. What I've learned out of this process with ARRI Rental is that I just need to find the right combination of lenses for each story, regardless of what set they are from."
Most recently, Bradford Young ASC has been shooting with ALEXA 65 and Prime DNA lenses on the as-yet untitled Han Solo Star Wars Anthology film in London. New focal lengths have been added to the series by the ARRI Rental lens development team to meet his specific creative needs. Young said: "With taking on a new format I felt out of my 'zone' because I had to re-think the way I re-frame ideas, scenes, logic, light. On top of that, I have to adopt and adapt to a new wave of optics that will hopefully keep the process intuitive. For me, the process of realizing cinema is a deeply personal process. Lenses and format have to be ready to adapt to my particular taste. DNA glass is a revelation and revolution in my journey to anchor my artistic residue into a particular story – truly my way of seeing, thus my way of feeling. No other glass has afforded me this opportunity. It's a true game-changer!"
Further cinematographers are now embracing the increasingly wide range of lenses available from ARRI Rental for the ALEXA 65 system. Whatever the required look, ARRI Rental works with each production to assemble the right lens selection, whether that means a single series, a bespoke combination of series, specially customized lenses or completely new optics. Additional lens options are already on their way.
www.arri.com
Top Related Stories
Click here for the latest broadcast news stories.