Broadcast News
26/05/2017
OMG Cubix Platform To Debut At MPS London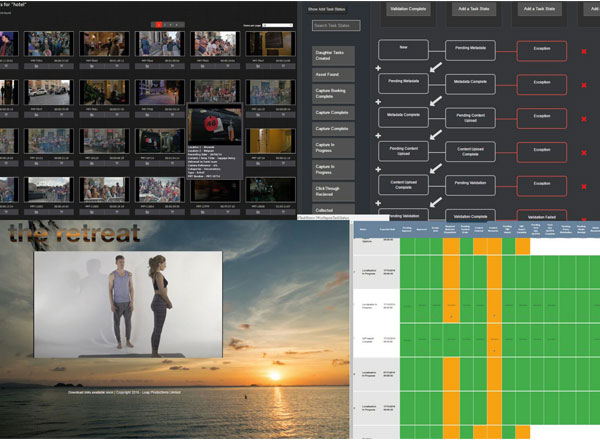 Following a successful launch at the US National Association of Broadcasters exhibition in April, new Biometrics, Timelines and Editorial Post Production modules for OMG's Cubix media asset management platform make their UK debut at the June 13-14 Media Production Show in Olympia, London.
Also on demonstration will be the Tracker & Reporting and Taskflow Designer options announced at BVE. OMG stand representatives will include CEO James Gibson, sales director Adam Welsh and sales manager Harry Sheen.
The Cubix Cognitive Services module provides a range of features including speech-to-text transcription, subtitle validation, language detection, image recognition and real-time content moderation. Compatible with more than 80 languages and dialects, the speech-to-text element allows content to be converted quickly and accurately into metadata which can then be viewed as a subtitle in the Cubix user interface. This metadata can also employed via any of the advanced search engines integrated into Cubix. Existing subtitles can also be checked in an automated validation process.
Instead of requiring operators to identify a language by listening to an audio track, Cognitive Services provides a weighted list of expected languages against which it tests each audio track. The module can then update the metadata within Cubix and tag the file before this passes through the configured workflow. Image recognition allows labels to be detected within graphic content. Example labels are furniture, people, facial attributes and emotions, animals and buildings.
The label metadata is stored within Cubix on a timecode basis against the asset. Relevant archived content can then be searched quickly. Cognitive Services also eanbles Cubix to function as a first-pass automated moderator detecting inappropriate content such violence or nudity. This is especially useful when dealing with live content or files from public sources such as social media.
Timelines offers Cubix users fast interaction with metadata, audio tracks, automated quality-control reports and edit-decision lists. Clients can also generate their own metadata tracks for deep logging or to make timeline-based use of the cognitive services.
New Editorial Post Production features for Cubix will also be demonstrated. These allow automated import, management and ingest of the media with associated metadata into editorial systems such as Avid, including direct ingest to Interplay. Printable reports can be produced of all content stored showing what decision was taken during the transfer. Examples include when a transcode was scheduled and details for publishing to the editorial system. These reports can be scheduled to be received via email or created on demand.
OMG's Cubix can be deployed in an on-site enterprise server, in the cloud or as a hybrid of the two. It now consists of 27 modules which can be combined to match a wide range of deployments and applications. Examples of these deployments are: Active accelerated archiving; disaster recovery; archiving, indexing and searching; business to consumer communication; content preparation and playout; content showcasing and monetisation; corporate to corporate communication; film scanning and processing, ingest from the web and social media, post-production, real-time tracking of content status across multiple systems, robotic bulk tape ingest; transcoding, metadata management and publishing.
Based in London, OMG offers a range of products and services to the media and broadcast sectors. These are designed to solve the headache of support and installation/integration services for vendors and providers, allowing them to focus on product development, service and profitability. OMG's approach includes full software integration services and support. By developing SOA-based integration around best-of-breed products, OMG is able to produce solutions that clients can buy either off the shelf or customer-specific basis.
James Gibson, founder and CEO of OMG, has over 16 years of experience working within the broadcast and media sector. That includes working within a leading broadcast software vendor (OmniBus), a Tier 1 broadcast provider (Red Bee Media) and facility houses (re:fine and Loft London). This experience of working across the different sectors has provided a clarity regarding which support and service structures work within the 'four 9s' SLA environment.
ortana.tv
Top Related Stories
Click here for the latest broadcast news stories.