Broadcast News
17/01/2017
Ortana Adds To Cubix Platform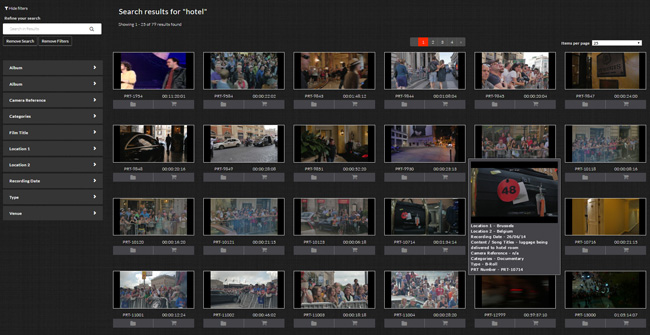 Ortana Media Group will use BVE 2017 to introduce new features to its Cubix media asset management and media orchestration platform. The company will also demonstrate its Spot & Spin online content processing service at the London event, 28 February – 2 March.
Used by television channels throughout the world, the Ortana Cubix platform can be configured to handle all media-related workflows from inception, ingest, archiving and manipulation, through to billing. Each element of the system can be operated via the unified graphical user interface.
Cubix Tracker & Reporting provides visual displays allowing non-technical staff to review any Cubix taskflow and drill down into detailed file-related information as well as corporate information such as service-level agreements. Additions to the Tracker & Reporting feature set include the ability to track physical assets right through to digital delivery and archiving. This embraces film scanning, barcode generation and management, plus easy image capture of a workflow configuration. Also added are multi-language subtitle support, track-stacking/audio-shuffling, improved audio library and proxy waveform support.
Cubix Taskflow Designer enables system administrators to create their own workflows and design task-specific user interfaces exactly matching their operational requirements.
Cubix operates as a hybrid cloud platform with native support for Microsoft Azure SQL and Amazon RDS, as well as the ability to run 'remote harness' automation modules that allow control of remote devices. Cubix also supports various tiers of on-premise and cloud storage, allowing orchestrated rules to be applied on a per client basis within a single instance. Entirely cloud agnostic, Cubix systems can run across multiple public clouds allowing for media, metadata and services to be backed up in real time, as well as providing numerous models for active-active clustering.
Every Cubix system has an asset management layer supporting a range of needs, including the ability to configure content hierarchies and editorial schemas. Cubix also provides full support for workflows based on discrete media such as tape and film. Incorporating selected market-leading third-party software, it can drive devices for applications ranging from bulk ingest and transcoding to OTT fulfilment and playout.
The configurable orchestration layer within Cubix works both with the asset management and automation layers, allowing different workflows to be configured and re-configured as required. It provides support for fully automated operation as well as more complex creative processes. Cubix is securely accessed via multiple web portals for many different use cases.
Part of the Ortana Media Group, Spot & Spin offers a range of services for processing tape and film based content. These are focused primarily around fully automated workflows capable of being scaled to handle huge libraries but also including bespoke low-volume rare-format tape and film. It provides secure facilities for content storage during the digitisation process. Bulk ingest is configured with industry-standard equipment directly controlled by Ortana's automation and orchestration to offer configured workflows meeting specific customer requirements.
Spot & Spin allows for customised workflows that work from the order/first-barcode-scan through to content delivery/publishing, with reporting and transparency throughout. This can actions as notifications, review and approve links, and transcodes.
Ortana Media Group will exhibit at BVE 2017, Stand K18.
www.ortana.tv
(JP/LM)
Top Related Stories
Click here for the latest broadcast news stories.