Broadcast News
09/05/2017
Timecode Systems Heads To Cine Gear Expo 2017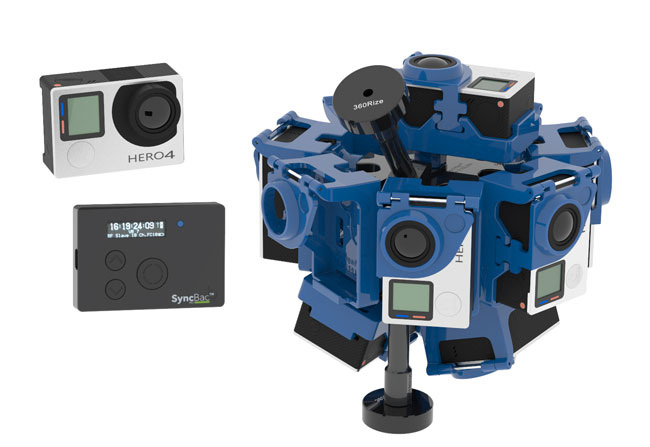 Timecode Systems has announced that it will exhibit at Cine Gear Expo 2017, 2–4 June, Los Angeles.
At the event, the company will demonstrate a new way to streamline multicamera production workflows using the UltraSync ONE, as well as how its system can be configured to offer efficiency benefits to professional VR workflows.
The UltraSync ONE measures 55mm x 44mm x 17mm and weighs just 39g. With a battery life of more than 25 hours, the generator and transceiver provides timecode, genlock for camera sync, and word clock for sound, all synchronised wirelessly and with sub-line sync accuracy over bi-directional BLINK RF. The accuracy it delivers means it is even suitable for genlock-synchronised 360-degree VR arrays. It is priced at $299.
Last month, Timecode Systems and 360RIZE teamed up to launch a modular, multicamera VR rig, designed to house GoPro HERO4 cameras with SyncBac PROs attached. This solution highlighted how the SyncBac PRO solution can remove the guesswork from 360-degree filming by enabling cameras to be timecode-synchronised at the point of shooting over RF. It also demonstrated how multiple cameras in a VR rig can be controlled simultaneously from a tablet using the BLINK Hub app. At Cine Gear Expo 2017, Timecode Systems is expanding the application of its SyncBac VR solution by demonstrating how UltraSync ONE could integrate into other custom VR rigs, creating an opportunity to use professional genlock sync for 360-degree filming.
Another unveiling at the show is a new sync feature – included in the version 3.0 update to Autopano Video Pro – and incorporates full support for MP4 timecode generated by Timecode Systems' products. This gives VR filmmakers the freedom to shoot creatively and efficiently, knowing that every camera in the rig is shooting in frame-level synchronisation and can be easily aligned and stitched.
Paul Scurrell, CEO, Timecode Systems, said: "Timecode Systems is heading to Cine Gear Expo 2017 with new products, enhanced features, and some exciting updates to its BLINK Hub app that together demonstrate how its solutions combine to deliver significant time and cost savings throughout the production process, from acquisition through to postproduction, whether filming for film and television or for 360-degree video."
Image: One SyncBac VR rig from 360RIZE.
www.timecodesystems.com
(JP/LM)
Top Related Stories
Click here for the latest broadcast news stories.