Broadcast News
18/05/2016
Summer Release For Timecode Systems' SyncBac PRO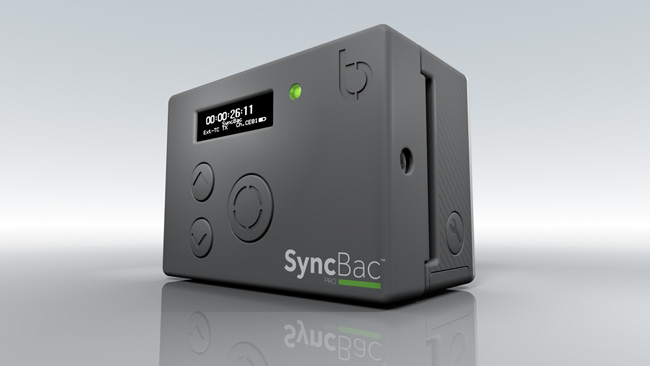 Timecode Systems has confirmed its SyncBac PRO will be available for sale this summer. The SyncBac PRO enables users to timecode sync GoPro footage in seconds, whether it be a number of GoPro cameras, GoPro units with traditional large-scale cameras and separate audio, or using multiple HERO4 cameras to capture 360° content on a complex VR rig.
The unit was launched in April 2016, but has already secured a 2016 IABM Game Changer Award and a spot on GoPro's 'Works with GoPro' program.
Orders for the SyncBac PRO are currently being taken via www.syncbac.com.
At Cine Gear Expo 2016, Timecode Systems will demonstrate the solution alongside a number of its other products including the
B:LINK Hub
. The company's latest firmware upgrade integrates the B:LINK Hub, its new production dashboard and device control app, into its :pulse and :wave products. The functionality offers the potential to save time and money at the point of shooting and in post-production.
The B:LINK Hub uses long-range B:LINK RF to power a real-time dashboard displaying all Timecode Systems units and compatible cameras and audio devices on set, centrally on one screen. This includes any GoPro systems docked with a SyncBac PRO. From here, users have advanced capability to remotely control Timecode Systems devices, as well as any compatible cameras and audio devices to which they are connected. Users can record, pause the action, monitor battery levels, and monitor sync status from a dashboard accessed from the web browser of any smartphone (iOS or Android), tablet, Mac, PC over Wi-Fi, or through a wired Ethernet connection into the :pulse.
The
:pulse
was originally developed to work as a partner to the ARRI Alexa camera, offering timecode and metadata functions and full wireless control of the camera from an iPad. The :pulse now supports an increasing number of professional cameras, from the Canon C300 to the GoPro HERO4 action camera.
"In 2016 Timecode Systems has launched the SyncBac PRO, added powerful new features to its :pulse and :wave products, launched the new B:LINK Hub production dashboard, and found new ways to utilise the B:LINK network to control even more devices centrally using any smartphone, tablet, Mac, or PC," said Paul Scurrell, CEO, Timecode Systems Ltd. "At Timecode Systems, we've always been driven by the ambition to create products that provide genuine innovation by completely breaking the mould. At Cine Gear Expo 2016, we'll be showing delegates how our latest releases are set to transform the multicamera film and broadcast production process."
www.timecodesystems.com
www.syncbac.com
(JP/LM)
Top Related Stories
Click here for the latest broadcast news stories.