Broadcast News
15/04/2016
SyncBac PRO Accredited By Works With GoPro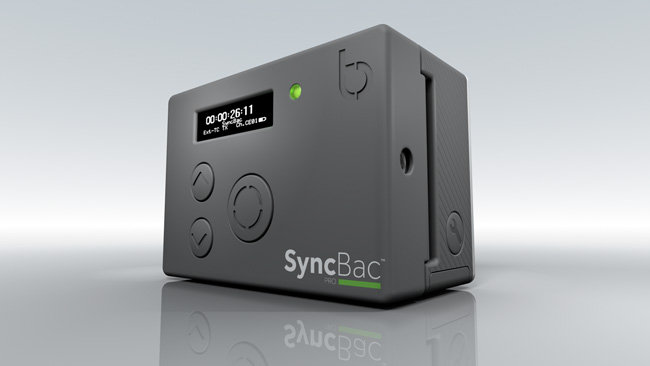 Timecode Systems' SyncBac PRO has been named as one of the first third-party accessories to be accredited by Works with GoPro.
The latest addition to Timecode Systems' range of timecode products is the result of the unique access to GoPro toolkits offered through the company's participation in the GoPro Developer Program. The sharing of technological knowledge encouraged by the initiative has allowed Timecode Systems to develop a bespoke GoPro timecode sync accessory. The SyncBac PRO enables the GoPro HERO4 camera to generate its own frame-accurate timecode, creating a wireless timecode link over long-range RF to sync multiple GoPros with each other and also with any pro cameras and pro audio devices on set.
With access to the new GoPro toolkits, Timecode Systems was able to utilise GoPro's technology to create an addition to the GoPro ecosystem. One of the key benefits of this approach is the fit. The SyncBac PRO neatly clips to the back of the HERO4 Black or Silver via the HEROBus 30 pin port, with no requirement for external connectors, keeping the GoPro as small and light as possible and meaning it is fully compatible with HERO4 Standard BacPac backdoor housings. Users clip on, switch on, and run timecode to integrate GoPro into a Timecode Systems production workflow.
"We have been able to achieve so much with the Syncbac PRO due to the amazing sharing of technology offered through the GoPro Developer Program," said Paul Scurrell, CEO of Timecode Systems Limited. "To me, this is exactly what best-of-breed technology companies should be doing – taking the best of their own offerings and combining them to drive innovation and elegant solutions. The end result is a product combination that's greater than the sum of two halves, providing the end user with the best-possible solution available."
The new functionality offered by SyncBac PRO allows GoPro footage to integrate seamlessly into a professional television and film workflow in the same way as more traditional professional broadcast cameras. Reflecting its value to GoPro users, the SyncBac PRO is among the first to be accepted into the Works with GoPro program.
"The SyncBac PRO adds new functionality to our HERO4 Silver and Black cameras that's very valuable to our professional and prosumer user base," said Adam Silver, director of strategic product partnerships at GoPro. "The ability to sync footage in a multi-camera environment highlights the potential for the HERO4 to work alongside more mainstream broadcast equipment and fully integrate into the television and film production process."
The SyncBac PRO will be launched at the 2016 NAB Show,booth C2221.
www.syncbac.com
www.timecodebuddy.com
(JP)
Top Related Stories
Click here for the latest broadcast news stories.