Broadcast News
29/03/2017
VER Supports Work On The Nightly Show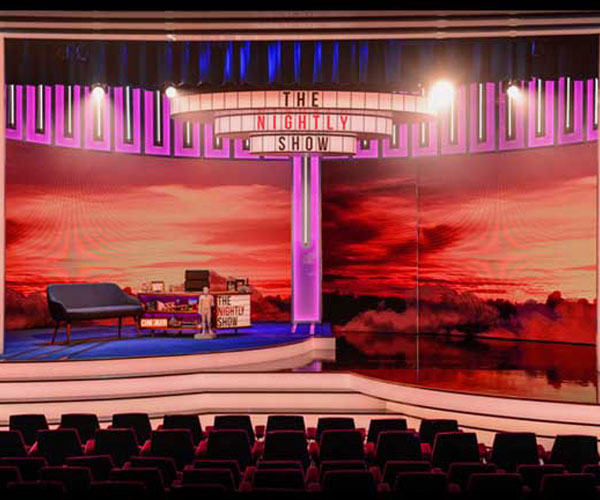 Offering new, next generation lighting products, VER has recently supported Lighting Director Chris Rigby – via its specialist broadcast lighting division, Aurora – with a range of LED and low energy illumination solutions on ITV's The Nightly Show.
Recorded in front of a live studio audience at The Cochrane Theatre in Central London, The Nightly Show required a dynamic lighting installation within a classic theatre setting. Wanting to deliver versatility, while also addressing the production team's wish to maximise the energy efficiency of the set up, Rigby specified a variety of low energy and LED fixtures that would meet the show's brief for function and flexibility.
Having made a significant recent investment in new products designed to accommodate the growing need for power efficient production solutions, Aurora was able to deliver a selection of fixtures that provided Rigby with a choice of no-compromise, effective alternatives to traditional light sources.
Chris Rigby said: "We (the production) were looking to use low energy lighting, where appropriate, to reduce the power demand and heat issues associated with traditional lighting. Aurora were my first choice supplier because of their willingness to invest in the latest available technology. I put together a shopping list of some exciting new products and, without hesitation, VER purchased exactly what I needed to make this job work."
He continued: "In a rig that was 95% LED we made use of Martin Mac Aura LEDs to wash the set and Rush MH6 CT wash lights for the audience, ETC LED Source 4s as back up keys and Philips SL LEDSPOT 300s to key the main areas. The LEDSPOT 300 was a revelation, everything that you could want from a key light over the short to medium studio throw. The shuttering was particularly useful, but the ability of the key lights to pan, tilt and mix colour temperatures at will was most useful."
The installation ensured the production remained bright and clear, while also keeping the power requirement to an absolute minimum. 
Chris added: "I was looking to experiment with new technology, but although some familiar products were available they didn't all have the versatility that the show format required in a theatrical space.
"VER and Aurora were able to offer a range of products to help me design a flexible rig that allowed good coverage for a wide range of lighting scenes. Project Manager Tim Massey also provided invaluable support and was always available to discuss potential problems and offer solutions."
The Nightly Show is just one of an increasing number of productions that VER and Aurora are supporting with LED and low energy solutions.
ver.com
(MH/LM)
More Broadcast Lighting Equipment Stories