Broadcast News
07/03/2017
LED Creative Delivers For ITV's The Nightly Show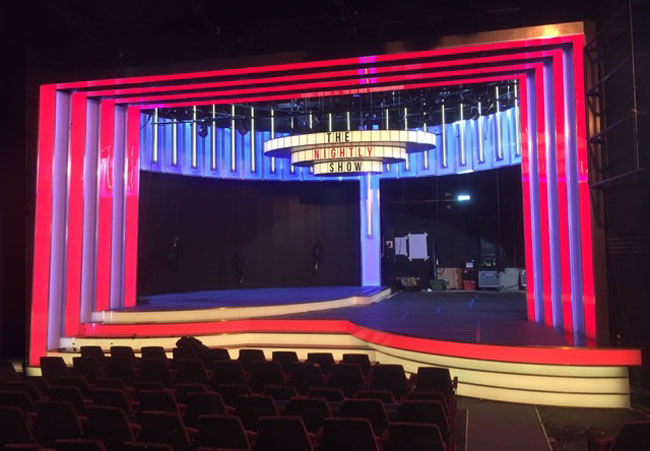 LED Creative are working alongside Scenic Designer Dominic Tolfts and Lighting Director Chris Rigby on ITV's new entertainment offering, The Nightly Show.
Recorded live before a studio audience, The Nightly Show features a selection of guest presenters offering topical views on recent events along with celebrity guests, expert analysis and various games.
LED Creative provided a selection of their bespoke LED systems and rental kits to the show, assisting Designer Tolfts in creating the modern look of the series. Flanked by a 'neon' proscenium arch, the installation features illuminated steps leading up to the stage, all constructed using custom-built light boxes housing lines of clear, controllable LED Creative Alpha RGB.
Decorative elements have also been embroidered throughout the set, including LC Alpha Soft Wands and Alpha 60 RGB Ribbon, placed to provide subtle movement, colour changes and sharp highlights across the set pieces.
Built around a low energy installation by Chris Rigby, The Nightly Show set up draws only 30 amps, making it outstanding in its power efficiency. The LED Creative product range is, by nature, efficient to run meaning that even with over a kilometre of Alpha 60 RGB added to the set, the overall power consumption remains low.
Ges Smith, LED Creative Director, said: "The Nightly Show is an extremely high profile production that we're proud to be supporting. The team have done an incredible job creating the modern, clean looking stage-set within the studio. Dominic has made fantastic use of our products adding intensity and colour to his designs which perfectly complement Chris' superb low energy lighting installation."
www.led-creative.co.uk
(JP)
More Broadcast Lighting Equipment Stories