Broadcast News
10/02/2017
Ravensbourne Teams Up With The RSC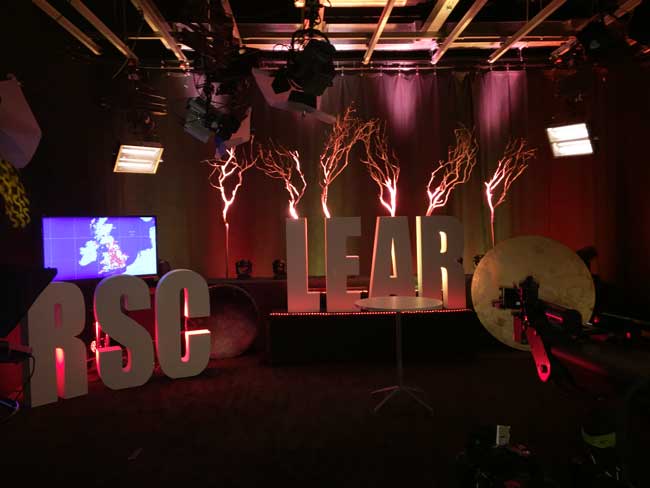 Broadcast students at Ravensbourne have teamed up with the Royal Shakespeare Company (RSC) to deliver free schools' broadcasts of RSC productions including King Lear, Othello and The Tempest.
As part of the RSC's Schools' Broadcast series, King Lear was broadcast directly into hundreds of classrooms throughout the UK this week. Furthermore, the students at Ravensbourne will also help facilitate broadcasts of RSC productions into a small number of schools in the USA and Asia throughout March and April.
Using the film of the production that is shown in cinemas, Ravensbourne students split the recording into three parts. It is then interceded with live studio question and answer sessions hosted with actors and experts in the Ravensbourne TV studio. The Q&A for King Lear was hosted by Inside Out presenter, Ayo Akinwolere and answered by RSC Director, Anna Girvan.
The collaboration has been made possible by Janet, a high-speed network for the UK research and education community provided by Jisc. Janet has provided the resource which enables 3,000 terminals to log on to this online experience simultaneously. Schools that have registered their interest simply log on and watch the broadcast via a special website hosted by the RSC.
Television production students are each given a role such as camera operator or vision mixer and work together as a team to ensure the broadcast is screened to a professional standard. Broadcast technology students then ensure the stream is online and running as efficiently as possible, as well as preparing alternative audio and video feeds in case one feed becomes redundant. Both groups of students are assessed as part of their creative collaboration unit.
James Light, director of the screening of King Lear and television production student, said: "This project is fantastic. It's great to be able to work with an external client for a large scale production. It feels very much like a real industry role so this sort of exposure prepares us for when we graduate and enter the working world."
Richard Manning, Ravensbourne's Associate Senior Lecturer in broadcast technology, added: "Much of the technology we use is standard within industry, giving our students the practical skills to understand the environments they might encounter in their career, as well as working to a high professional standard that comes from with working with one of the most high-profile theatre company in the UK."
Fiona Ingram, Head of Education Programmes at the Royal Shakespeare Company, commented: "We are extremely pleased with the standard Ravensbourne students work to and are delighted they are able to assist us in the broadcast of Shakespeare's plays to thousands of children all over the UK. Their assistance has enabled children everywhere – regardless of where they live or what their background is – to engage with and enjoy Shakespeare and we look forward to continuing our work with Ravensbourne in the future."
Technology used to transmit the broadcast is provided by Ravensboune alumni Jon Lambert, Founder of Evada, a technology supplier. Grass Valley and Elemental also provided broadcast systems to make the collaboration possible.
www.ravensbourne.ac.uk
(JP/LM)
More Jobs & training  Stories