Broadcast News
30/11/2016
Octopus Newsroom Celebrates 17th Anniversary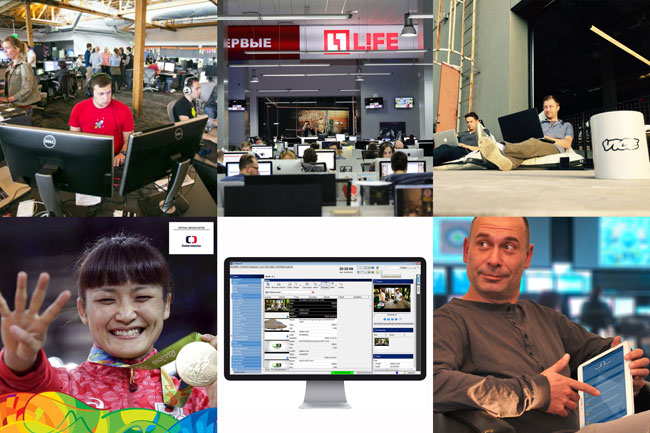 Octopus Newsroom has celebrated a successful 17th anniversary.
Throughout 2016, highlights for the company includes use of the Octopus Mobile App by broadcast networks covering the summer games in Rio de Janeiro, as well as coverage of the recent US election.
A series of new Octopus system installations have also been undertaken, plus a major extension of the company's global presence. New offices have been opened in the Bangkok, headed by APAC director Miro Rusko, and in San Francisco, headed by Gene Sudduth as national sales director for North America.
Projects which commenced or concluded during 2016 for Octopus included VICE Media, the youth-focused broadcaster and publishing company, investing in an Octopus 8 newsroom system for its Show 'Vice News Tonight' which broadcasts five nights a week on HBO. An Octopus installation has been commissioned in Brooklyn and London. This will eventually serve users in their offices worldwide (San Francisco, Washington DC, Middle East and China).
New York-based broadcaster NTD TV selected the Octopus 8 newsroom computer system for its television and online teams. The project included a large number of Octopus App licenses enabling the channel's journalists to access news production facilities via mobile devices such as iPads, iPhones and Androids.
Octopus 8 technology has also been chosen by Riot Games to power a television news channel devoted specifically to electronic sports. A central system will be installed in Los Angeles with links to Berlin, set up in such way that Riot Games newsroom staff in the USA and Germany can use it independently.
Elsewhere, TheBlaze network has ordered an Octopus 8 newsroom system for installation at its headquarters in Las Colinas, Texas. This project is scheduled for early January 2017; while television channel LifeNews has ordered two Octopus 8 systems – one for its headquarters in Moscow and one for its sister channel, Life78, which broadcasts from studios in St. Petersburg. Both projects are being supervised by Moscow-based system integrator Studio Systems.
On the show front, Octopus version 8 software was demonstrated at industry shows around the world, including NAB in Las Vegas, BroadcastAsia in Singapore, IBC in Amsterdam and Broadcast India in Mumbai. Octopus 8 streamlines operations and workflows by allowing newsrooms to collaborate with other teams and deliver stories in multiple formats for the widest possible audience. Tweets and Facebook posts are treated like any other news story with team managers able to assign and share tasks, and to approve posts before they go live.
Also on display was the new Octopus Mobile App, offering journalists full news production capabilities on tablets and mobile phones running Apple iOS or Google Android. Reporters and editors working remotely gain instant access to all wires, rundowns and assignments, and are also able to edit stories within a rundown, preview prompter text as well as create wires and reports in the field.
www.octopus-news.com
(JP/LM)
Top Related Stories
Click here for the latest broadcast news stories.