Broadcast News
13/08/2018
Octopus To Demonstrate NRCS V8.2 At SET Expo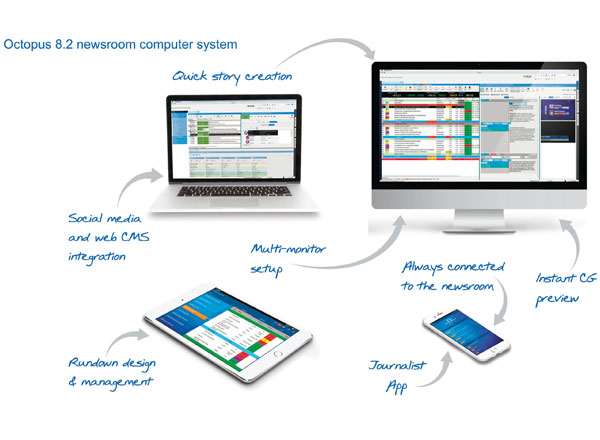 Octopus is to demonstrate the latest version of its Octopus newsroom computer system (NRCS) at the upcoming SET Expo in Brazil.
Brazilian master distributor AD-Digital will showcase Octopus NRCS version 8.2 on stand 69 at the São Paulo show, 27-30 August.
"Octopus 8.2 includes a wide range of improvements that make the world's most operator-friendly NRCS more versatile than ever before," said Africa & Latin America Sales Manager Gianluca Bertuzzi. "Easy to configure, easy to learn and easy to operate, it empowers reporters and newsroom staff to work as a united team with fast access to source content plus all the tools they need to craft stories that will capture and hold audience attention."
"The key focus of the Octopus design is on ensuring that continuous exhilaration does not turn into stress," added Octopus Newsroom Head of Marketing Adam Kennedy-Ripon. "Octopus GUIs are task-specific for simplicity and speed. Additional tools can be accessed quickly when required, giving operators the freedom to switch between roles and to operate third-party devices through an eye-friendly and brain-friendly graphic interface. It is an approach which has made Octopus a known and trusted brand worldwide, not least in Brazil where TV Brasil Central is an elite customer partner."
Installed by AD-Digital in September 2015 in the main newsroom at TV Brasil Central's Goiânia studios, Octopus is closely integrated with Grass Valley and Orad production equipment as well as Autocue teleprompters.
Octopus 8.2 adds many GUI refinements and usability improvements including the ability to use Octopus assignments for enhanced long-term and short-term planning. Operators can now quickly create a new theme for a defined number of stories, describe how the theme should be handled and define who will be assigned.
A new feature has also been added which simplifies interview management. Story handling is enhanced to allow assignment-based grouping. When an assignment contains several versions of a story, all can now be grouped for easy overview.
New rundown capabilities accelerate repetitive operations. Story content that could only be edited in the story editor is now editable directly from the rundown. Operators also gain the ability to create new elements, or convert or delete existing ones, directly from the rundown. Character-generated text lines can now be displayed as first and last words. Octopus V8.2 also delivers close and fast integration with Viz Mosart and Opus newsroom automation without requiring any additional plugins.
Additional enhancements include a powerful calendar tool for handling repeating events, clip-on-air history reporting, the ability for more editors to collaborate on the same script plus drag-and-drop videos directly in the rundown.
Suitable for all types and levels of operation, from a single channel with just a few bulletins per day to full-scale 24/7 news networks, Octopus newsroom software runs natively on Linux, Microsoft Windows and Apple OS X. Mobile apps are available for Google Android and Apple iOS tablets as well as smartphones. Octopus can be integrated into any MOS-compliant environment or workflow.
www.octopus-news.com
Top Related Stories
Click here for the latest broadcast news stories.