Broadcast News
06/11/2017
TBN Commissions Octopus Newsroom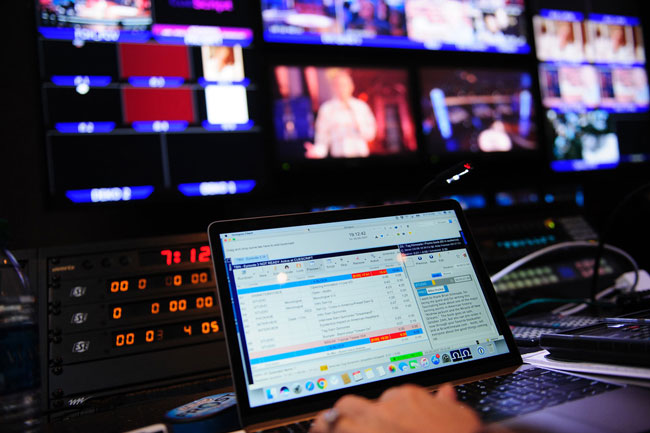 Octopus Newsroom has completed a newsroom computer system sale to Trinity Broadcasting Network (TBN), it has been announced.
For its first use at the Trinity Music City production facility in Hendersonville, Tennessee, TBN has initially acquired Octopus for its new show, Huckabee, hosted by former governor and presidential candidate Mike Huckabee. After this initial implementation, the system will be rolled out to several of TBN's other network production facilities across the country including network headquarters in Tustin, CA. The new program will available in the USA and internationally via TBN's network of 37 US stations, national cable distribution and direct to home platforms such as DirecTV and Dish, as well as live streaming channels and on-demand via TBN's website.
Larry Haley, TBN Director of Broadcast Operations & Engineering, said: "The challenge we faced was how to integrate a newsroom platform into an innovative show concept with a wide variety of information and entertainment content. After carefully researching the available management solutions, we identified the Octopus Newsroom system as the best choice.
"Key members of the production team attended the April 2017 NAB Convention where a detailed demo confirmed that Octopus offered all the capabilities we needed. The team was particularly impressed by the modular configurability of Octopus 8, its handling of rundown-based content compilation and its efficient control of social media content.
"Deciding features from the engineering viewpoint were the ability to interface Octopus 8 seamlessly with our Ross graphics, IPV asset management, Cuescript prompting and EVS playout infrastructure. Plus the fact that Octopus 8 runs equally well on multiple operating platforms as we make intensive use of Apple Mac and mobile as well as PCs running Microsoft Windows."
"We have supplied a complete core system including 15 concurrent user licenses, a MOS gateway, wires, RSS and email handling, full social media integration, hot-standby server facility, two years of premium support, and on-site professional services," added Gene Sudduth, Octopus Newsroom's National Sales Director for North America. "The pricing model and the Octopus Newsroom approach to technical support and system upgrading also met with TBN management's approval."
Available for Apple OS X, Linux and Microsoft Windows operating systems, Octopus 8 gives newsroom staff the ability to ingest all incoming audio, video and still-image files, news agency wires, RSS feeds, emails, SMS messages and even faxes. All content relating to a specific task can be seen in a single view. Octopus 8 is fully MOS compliant and can be integrated into any environment or workflow that supports the MOS protocol. It can integrate with existing and new MOS devices, and fully supports the placeholder workflow, thumbnails and proxy preview, item status, channel assignments and many other commands.
www.octopus-news.com
(JP)
Top Related Stories
Click here for the latest broadcast news stories.