Broadcast News
18/05/2016
Octopus Newsroom Unveils Octopus 8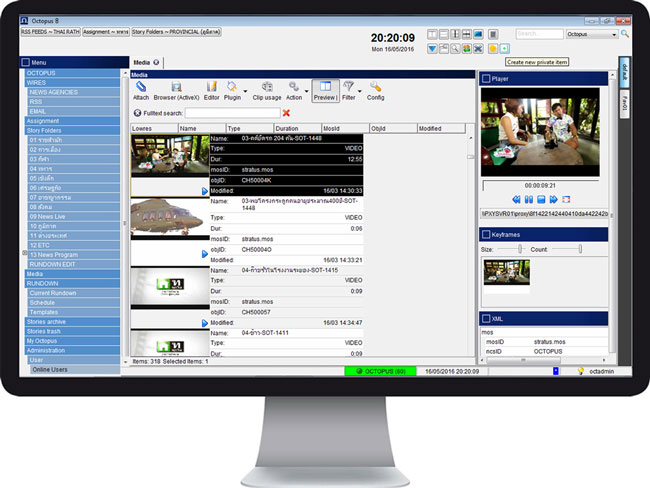 Octopus Newsroom is to unveil Octopus 8 at BroadcastAsia 2016, stand 5E5-03, later this month.
Octopus 8 gives administrators the ability to assign users to create content for social media. Tweets and Facebook posts are treated like any other news story with team managers able to assign and share tasks, and to approve posts before they go live. Journalists can also follow Twitter trends and track topics of particular interest to them across the social network in real time. The research process is now automated, giving teams instant information and analyses trends over time. Editors can tweet, reply, re-tweet or favourite directly from Octopus as well as manage the channel's relationships by following or blocking Twitter users.
The solution directly interconnects with CMS systems such as Wordpress, Joomla, Drupal and Core Media, allowing scripts and articles to be uploaded dynamically to web portals. This new web component enables TV news editors to upload pages directly, saving time and reducing the workload on web managers. Another new feature is the ability to publish social media posts directly from the rundown.
The Octopus Mobile App will also made its debut at the APAC show. This offers journalists full news production capabilities on tablets and mobile phones running Apple iOS or Google Android. Reporters and editors working remotely can gain instant access to all wires, rundowns and assignments. They can also edit stories within a rundown, preview prompter text as well as create wires and reports in the field. The new app supports both Octopus 8 and the most recent versions of Octopus 7.
OCTOPUS Newsroom recently extended its international business development and technical support presence with the establishment of a regional office in Thailand. Staff on site include Miro Rusko (APAC Director) and Ermias Amare (Senior Support Engineer & Team Leader).
"With audiences expecting to watch, hear and read bulletins on their choice of device and at their choice of time, we have focused development on making the sharing of news items and information across departments easier and faster than ever," said Miro Rusko. "Octopus 8 enables users to collaborate with other teams and deliver stories in multiple formats for the widest possible audience. It streamlines operations and workflows so that all necessary production information, including news sources, clips and stories, is now available to at a glance."
"Pressure on journalists to hit deadlines is enormous and continues to increase," added Gabriel Janko, Sales Director. "Octopus 8 features a new dashboard GUI which brings together every assignment, notification and update. Until now, newsroom solutions have treated social media as an add-on feature. Octopus 8, Twitter, Facebook and Instagram are fully integrated into the newsroom. Social media are now treated with the same importance as a traditional news feed or a programme rundown. This is a big advantage which reflects the huge importance of social networks to channel owners and audiences worldwide."
"This new resource confirms our strategy of getting closer to our customers, whether for pre-sales information and demonstrations, engineering and operational issues or post-sale advice," continued Rusko. "The aim of this investment is to increase the quality of our existing 24/7 support capability. We will now be able to respond to customer requests within, or at least nearer, their national time zones rather than expecting them to think in terms of European time. Our focus will be on the entire south east Asia region, working faster and on a more personal basis. This will help particularly in the area of proof-of-concept tender fulfilment where documentation needs to be processed quickly."
www.octopus-news.com
(JP)
Top Related Stories
Click here for the latest broadcast news stories.