Broadcast News
28/11/2016
Successful 2016 For PlayBox Technology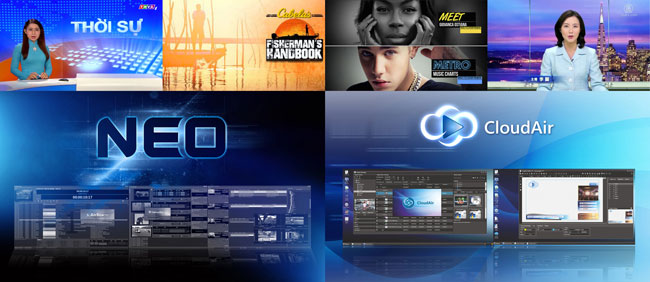 PlayBox Technology has reported 2016 its most successful trading year to date, with strong demand for its television channel branding and playout solutions throughout the global broadcast market.
Don Ash, president, PlayBox Technology, said: "At IBC 2016 in September we celebrated our 17,000th delivery of new or upgraded channels compared with the 15,000 total we reached two years before. Upgrades from our AirBox product range to the Neo series are proving especially popular. We were also delighted to see our recently introduced CloudAir virtual playout software shortlisted for an IABM Design & Innovation Award.
"Available on a software-as-a-service basis, CloudAir attracted a very high level of interest from visitors to the various broadcast industry exhibitions, not least during NAB in Las Vegas where delegates were queuing for PlayBox Technology demonstrations on all four days of the show. CloudAir allows extra channels, extra storage and extra facilities to be accommodated quickly and easily.
"AirBox Neo and its supporting range of options have proved our most successful product launch ever. Neo is quite simply the most reliable, flexible and scalable television channel branding and playout system in the business. It can also be combined closely with CloudAir to create a hybrid system of unprecedented versatility, providing extended features such as cloud-based storage, asset management and disaster-recovery."
Pavlin Rahnev, Chief Executive Officer, PlayBox Technology, added: "Integrating AirBox Neo servers and CloudAir gives broadcasters an operationally efficient and very cost-effective way to extend both the security and the scale of their operations. Additional channels can be added at very short notice using CloudAir without adding to the equipment load in a station's onsite technical area."
Throughout the past 12 months, a number of deployments of PlayBox Technology's solutions have been completed across the globe. This includes the RTV-7 television network, produced for expatriates from the Dutch Caribbean now living in the Netherlands. The broadcaster chose a PlayBox Technology broadcast playout solution as the core of a major infrastructure upgrade, centring on an AirBox Neo compact 3U channel-in-a-box server with TitleBox Neo interactive on-air graphics.
Echo Sports Network, Australia deployed AirBox Neo to power a new channel dedicated to promoting amateur sports. Making use of internet based technology and PlayBox's advanced IP playout server, ESN is providing a mechanism for amateur sports so fans can watch all the action on their platform of choice.
Pursuit Channel, an Alabama-based television network geared to hunting, fishing and related outdoor activities, is playing to air with PlayBox Technology AirBox Neo.
Family Media TV, the largest independent Christian broadcasting network in east and central Africa, chose a broadcast playout solution based on the PlayBox Technology AirBox Neo. The new system has been installed as part of a major upgrade of the facilities at the network's headquarters in Nairobi.
THVL, Vietnam upgraded to PlayBox Technology Neo. The newly purchased system was designed and commissioned in partnership with the PlayBox Technology official reseller for Vietnam, Mediatech.
New Tang Dynasty Television (NTD TV), a 24/7 Chinese language news broadcaster based in New York City, upgraded the PlayBox Technology AirBox playout system at its Houston channel to the latest-generation AirBox Neo.
Tring TV, Albania, also upgraded its playout infrastructure to a combination of PlayBox Technology Neo servers and CloudAir online services. The integrated system provides all the resources needed to deliver 27 television channels.
On the management front for PlayBox Technology, the company expanded its team with the return of Van Duke as USA Sales Manager, in January 2016. He has since been promoted to US Director of Operations. In the APAC region, Dandy Kurniawan has joined the Jakarta-based team to provide pre-sales and post-sales support for new and existing customers. He reports to country manager Desmon Goh and APAC regional sales director Iulian Ionescu.
www.playboxtechnology.com
Top Related Stories
Click here for the latest broadcast news stories.