Broadcast News
27/10/2015
Stella LED Range Available In UK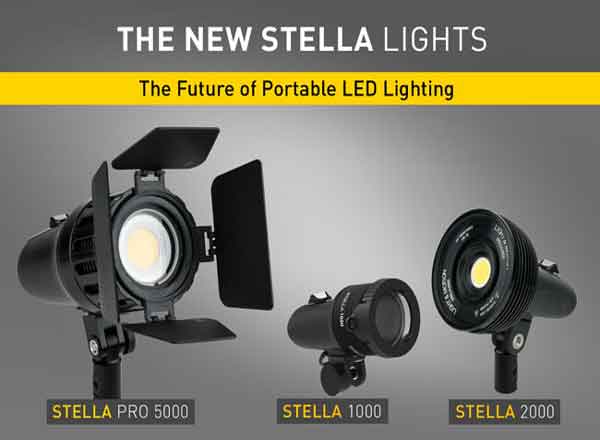 Light & Motion, an imaging light manufacturer, has announced that UK stockists, Prolight Direct, CVP, Prokit, Wex Photographic, and Production Gear are to supply the newest portable and fully waterproof LED light range, Stella.
The new Stella Line from Light & Motion consists of compact, rugged lights available for imaging professionals. Self-contained, they have built-in Lithium-ion rechargeable batteries that allow the lights to run cord free for up to 12 hours. Stella lights are guaranteed waterproof and can withstand a 1-meter drop onto concrete. All Stella lights feature a wide range of light modifiers and mounting systems.
Light & Motion is excited about adding the UK to its list of countries to carry the new line of Stella lights, and with Prolight Direct, CVP, Prokit, Wex Photographic, and Production Gear as dealers, the company will have high-quality support.
"Our field testers have been impressed with the durable and high-powered performance of the Stella lights now with the support of our UK dealers we can get the Stellas into the hands of Broadcast New Agencies, Independent filmmakers, and studio professionals who will want to add these compact and powerful lights to their everyday tool set," said Daniel Emerson, CEO, Light & Motion.
The Stella line will include three models:
• Stella Pro 5000
– with a run time range of 90 minutes on high and 12 hours on low;
• Stella 2000
– with a run time of 50 mins on high and 7 hours on low;
• Stella 1K
'run & gun' with 90 minutes on high and 11 hours on low.
Key Features include:
• High Output 'chip on board' LED
• Certified 90 CRI, TLCI of 93, CCT 5000K
• 120-degree wide, smooth beam angle
• Portable Power with built-in high capacity LI-ion rechargeable battery
• Extended runtime options: DTAP connector, external battery, and direct external power supply (included)
• Regulated lumen output – does not dim during internal battery use
• Fast Charge of 1.75 hours, 80% charged in 1 hour
• Range of mounts: bar strap, c-stand, pistol grip, cold shoe
• Press-on light modifiers including: 50 degree Focus Optic, Glo Bulb, 25-degree Fresnel, barn doors, speed ring gel holder
• FL-1 standard certified: Lumen Output, Runtime, Beam Angle, 1-meter drop concrete, waterproof to 100 meters.
Nicholas Schrunk, Creative Director, RedBull Media House, said of the Stella range: "We're always trying to push the limit of what production value we can bring to the most remote and logistically challenging locations around the world. For our productions we needed lights that weren't just reliable and consistent output and colour temperature, but we also needed them to be waterproof and reliable with the wear and tear of the extreme environments we were in.
"The power and flexibility of the Light & Motion Stella lights gave us an amazing filmmaking tool that we never had to question the durability and usability of. The high lumen output and factory sealed battery allowed us to shoot everything from studio interviews to full downpours and underwater with a single lighting option that was as beautiful as it was resilient."
Shawn Heinrichs, Emmy Award-winning Filmmaker, Blue Sphere Media, also said: "Light and Motion has come through again for me. Already the dominant player in the underwater lighting space, their new 'In Air' Stella lights set a new standard for light-weight, high-performance, fast-charging and super-portable lights for the documentary shooter on the go. I have scrapped all my LED panel lights for these power hitters that that tuck easily into my travel vest pockets!"
www.lightandmotion.com
(LM/CD)
More Broadcast Lighting Equipment Stories