Broadcast News
13/08/2015
The Immersive Experience: Everything For The Full House Consumer Set Will Be At IBC, Pt 2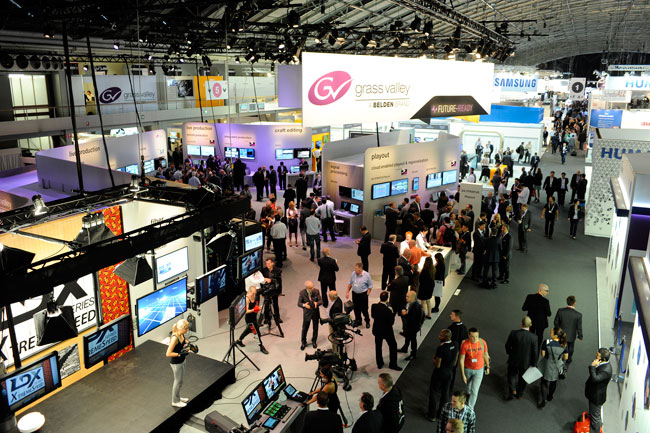 Continued from Part One...
Quantum (7.B26)
has built a big market share with its StorNext 5 platform offering shared storage architecture which includes high-performance online storage, extended online storage and tape- and cloud-based archives. The new focus will be StorNext Connect, a management and monitoring toolset, which provides a visual dashboard of the entire operation. Also new is the Quantum Q-Cloud Archive, which extends StorNext workflows to the cloud and gives users a capacity-based service with flexible, safe and secure off-site cloud archiving.
For new users or new deployments in post, broadcast, corporate and government video, Quantum has the StorNext Pro Foundation integrated shared storage solution. This is aimed at smaller production workgroups.
Custom Consoles (8B38a)
, will show off some furniture it has installed at Trinity Broadcasting Network's London studio – specifically play out and ingest desks and two of its Media Wall monitor display mounts. The four-metre wide play out desk was designed for simultaneous use by four production staff, and has eight equipment bays accommodating up to 24U of comms or control equipment. The ingest desk is designed for use by a single operator.
The Media Wall – a fully self-supporting structure or coupled directly to the studio wall – allows flat-screen monitor displays of practically any width to be constructed from standard horizontal and vertical support elements. All wiring is fully concealed and can enter or leave the structure at any desired point.
Rascular (5A10)
will raise the tricky issue of manual control in a world where play out operations often combine specialised kit from a variety of vendors under automated control. Putting control back into operational hands will be exemplified by link ups with Harmonic, Barnfind, and Blackmagic Design.
The Harmonic relationship – seen at NAB – will see Rascular Helm control the Harmonic Spectrum media server and Spectrum ChannelPort integrated channel play out systems. Rascular RouteMaster, a PC-based router control system, can now provide complete management of routers across the Barnfind line, which is known for its signal-neutral platform that offers multiple functions and supports numerous different signal formats in one frame. RouteMaster has also been integrated with Blackmagic's cost-effective hardware router control panels.
Aspera (7.B27)
has the new SaaS platform Aspera Files, which extends its FASP transport technology by enabling users to establish a branded web-based presence for the fast, easy and secure exchange and delivery of any size file-based media or data between end users across separate organisations. Content can be stored and easily accessed in multiple cloud and on-premise storage systems, and sharing between users and trusted organisations is as easy as drag-and-drop regardless of where the content is located. Next generation FASP elements on show start with FASPStream transport, which expands the Aspera transport technology for live and near-live data streaming.
Aspera Orchestrator 2.3 is a new release web-based workflow automation platform bringing improved performance within high concurrency environments. Performance boosts in some cases hit 10x over previous versions. Plug-ins from third party vendors now number over 50. The Aspera Direct-to-Cloud Storage transfer capability moves even the largest (4K) media formats from source directly to object storage destination.
Globecast (1A29)
will offer a number of business-minded media solutions, starting with Media Factory, its cloud approach to handling and preparing content for any kind of distribution.
It breaks down traditional silos related to separate content preparation workflows for different distribution approaches or different regions and allows users to provide content to Globecast once and then deliver to linear play out, OTT and VOD platforms. Media Factory also allows the Globecast media centres in London, Singapore and Los Angeles to seamlessly work as a single operation.
The second initiative, Localisation, allows broadcasters to increase revenues and get more value from their existing content and channels. Globecast VOD packaging allows users to seamlessly deliver VOD content to some of the biggest TV platforms across Europe and Asia. It removes complexities caused by the different metadata and technical standards required by VOD platforms globally.
PAWA (EBS.TV) (14B01)
, a TV data service provider in the channels, platforms and listing areas, will lead with its Pawa software. This gives users a multi-platform, multi-territory, scalable solution that enables linear and non-linear EPG data to be aggregated, restructured and delivered to any platform.
Available as a managed service with EBS handling the entire EPG data process, or as a software-as-a-service option, Pawa can import listings from a variety of formats – storing them centrally in preparation for distribution. Editors can add any additional data required such as translations, editorial or extra metadata (such as images or cast) before the listings are delivered wherever required.
Tektronix (10D41)
will major on its 4K analysis and monitoring tools, and its IP Video technologies. In terms of products this will include 4K/UHDTV1 waveform monitors and rasterizers, a new line-up of 4K-capable file-based analysis solutions, 4K-picture quality analysis, and HEVC/H.265 video network monitoring. The transition from SDI to IP-based infrastructures is a huge topic, and Tektronix has been collaborating with Sony on its video over IP initiative, including support for Sony's IP Live Production system. Tektronix also joined the TICO Alliance, TICO being a lightweight compression technology that provides visually lossless compression up to 4:1 and enables 4K/UHD content to be transported over existing SDI infrastructure as well as 10 GigE IP production and contribution networks.
Tektronix will show a video quality monitoring solution for HEVC/H.265 encoded streams as part of an update to its Sentry video quality monitoring solution. For covering 4K content delivery Tektronix has a set of file-based QC solutions that address issues like faster test times, an integrated video player, comprehensive codec support and easy integration with workflows.
PlayBox Technology (8870)
now has a full production version, its SocialMediaBox, which comes integrated with the TitleBox or as a stand-alone solution. SocialMediaBox enables users to process comments from multiple web sites or social networking feeds into a single ready-for-broadcast stream. It is controlled using a standard web browser, and comes as a client/server app using SQL-based data storage, plus supporting multi-user access and multiple outlets.
Data can be combined into an RSS feed and forwarded downstream to other devices or sent to a CG for viewing as an integral part of the show output. Production staffs get an efficient basis for the creation of auxiliary-screen pages for viewer feedback. Operators will view preconfigured feeds from various sources and add the desired posts to a customised list using drag-and-drop. Comments in the customised feed can then be edited, checked against a profanity word list and published immediately or floated until approved for publishing.
This article is also available to read at BFV
online
.
More Content Management Stories