Broadcast News
11/08/2015
Omnitek's Ultra 4K Tool Box Meets The UHD/4K Challenge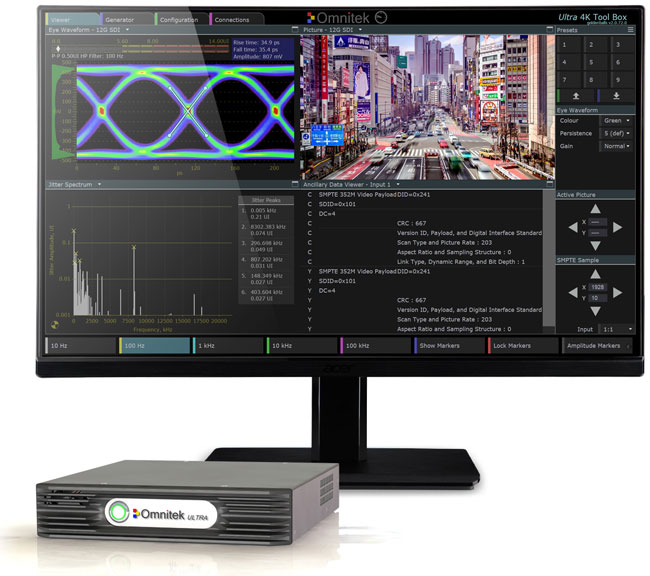 UHD or 4K TV brings with it challenges that existing infrastructure and new equipment manufacturers must overcome: which interconnect standard to use/support – quad 3G, 12G or IP; which SDI data packing format – Square Division or 2-Sample Interleave – especially for multi-link standards; and data integrity at the higher-speeds of 6G and 12G-SDI.
Omnitek's established Ultra 4K Tool Box now provides an SD to 12G-SDI toolset that helps to overcome these challenges and enable broadcast engineers and systems integrators to build, test and commission UHD and 4K systems with complete confidence, writes David Ackroyd, Business Development Director, Omnitek.
The Box has been designed to support most existing and anticipated 4K standards – supporting SD through to 4K/60 UHDTV via quad HD, quad 3G, 6G, dual 6G and 12G-SDI and DisplayPort. Square Division and 2-Sample Interleave modes are catered for, and full gear-box conversion is provided between all the I/O, enabling, for example 4K over quad-link 3G-SDI to be output as single-link 12G-SDI (and vice-versa).
In-depth Data View and Cable View displays offer engineers a chance to view SMPTE colour-coded samples as they appear on the physical cable(s) that make up the selected video standard – perfect to check multi-link 4K is in the correct order and on the right cable.
Inter-link co-timing is an issue with multi-link UHD video standards, and the Ultra box provides measurement of this, and also insertion of delay between the links, as part of its generator function, enabling test of equipment output and input timing tolerances.
Data integrity is solved with the Ultra's real-time Advanced Physical Layer features which have hitherto only been available on high-end oscilloscopes costing over a hundred thousand pounds. The Ultra 4K Tool Box, at a fraction of this cost, provides real-time 12G-SDI Eye patterns with automatic rise & fall-time measurement; multi-band jitter meters; and jitter waveform, histogram, spectrum analysis – a comprehensive suite of tools essential for 4K product development.
Of course the Ultra provides standard analysis features such as SDI status display, ANC monitor, gamut checking and a real-time video proxy, which alongside the Physical Layer toolset and in-depth pixel/sample displays, offers a complete output conformance test suite for UHD equipment manufacturers.
Uniquely, the Ultra is also able to offer SD to 4K moving test pattern generation (in any of its standards), including pathological tests for 6G and 12G-SDI. Jitter can also be added to the SDI output, and there is slew-rate and voltage control, providing all the tools necessary to test SDI receiver tolerance.
New for IBC 2015, the Ultra expands upon its already comprehensive tool set to include an array of audio monitoring and generation tools, ANC packet watch, and full raster video input and output support which allows the capture and playout of video with all ANC and blanking data– perfect to find or generate errors not seen in the active video.
www.omnitek.tv
More Content Management Stories