Broadcast News
05/08/2015
NFTS: A Driving Force For UK Animation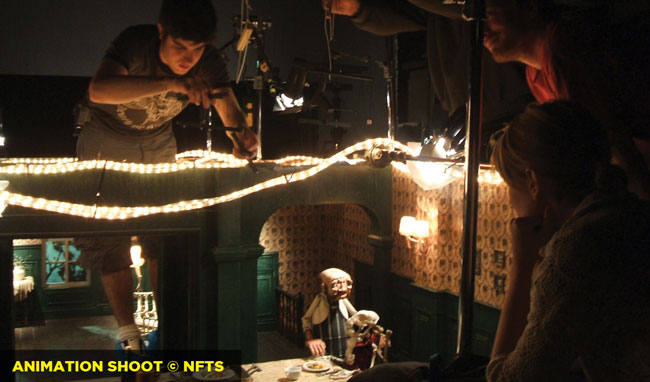 First opening its doors in 1971 as the National Film School (NFS), it was a joint effort by the industry and government to create an institution where talent could be educated and trained for the British Film Industry. Today, it is the only film school in the UK with its own film and television studios, and post-production facilities to rival those of professional companies.
The NFS purchased the old Beaconsfield Film Studios in Buckinghamshire and retrofitted it to professional industry standards in 1971. Four permanent departments were established – production, camera, editing and sound – with its first 25 students enrolling in 1971. At the time, the curriculum was a loosely structured affair; sporadic seminars and workshops were secondary to production, with students spending most of their time making films. By the early 1980s, however, NFS co-founder Colin Young felt this no longer served the students' best interests, so a more structured curriculum was introduced. This was followed by a name change, to The National Film and Television School in 1982 and reflecting the fact that many graduates had gone on to make their careers in TV.
Yet it was only in the early 1990s when the NFTS modified its course structure again, to provide specialisation at the time of entry. The first year still offered a general course, but the following two years provided focused training in one of the ten specialist areas; direction, writing, editing, camera, sound, animation, design, producing, documentary and composing.
Henning Camre succeeded Young in 1992 and tightened elements of the School, such as structure and discipline. He introduced time limits and budget targets, for example, as well as continued to offer specialised training. Camre aimed for more balanced numbers in each of the ten specialist areas, creating separate departments with their own head tutors and curricula. The different departments were put on an equal footing to reflect the way the Industry outside was really functioning, while the full-time programme and the short course unit were fully integrated and television was given a wider emphasis in the overall curriculum. A Lottery grant was also secured and allowed the School to install state-of-the-art equipment.
Stephen Bayly, an NFTS graduate and film producer, took up the reins in 1998. He reorganised the curriculum to run over two years, instead of three; and after a few weeks of cross-specialist workshops where students swapped roles to learn the basics of each specialisation, courses focused in-depth on the professional field in which the students had enrolled to train.
One of these courses is its Masters in Directing Animation. The course, which is the only one located in dedicated film studios, allows students to have their own work space and equipment as they study in state-of-the-art sound stages and post production facilities. The first year comprises of projects, workshops and masterclasses taught by industry professionals and leaders in the field of animation, with the second year seeing students direct a crew of 10 of their peers from all the major filmmaking disciplines located in the School. The Animation course itself covers a range of techniques and aspects including Storyboarding, Creating Character, Animation performance, Pixillation workshop and a Visual/animated interpretation of a soundtrack. It also emphasises the importance of story alongside design and visualisation, and students are encouraged to "push the boundaries to find a new look, a fresh approach or a different angle within the narrative structure."
With animation becoming increasingly popular, in 2013, the NFTS launched a new Animation course, in conjunction with Bristol-based studio, Aardman Animations. The three-month Certificate in Character Animation course is taught by industry professionals, including main tutors Loyd Price, Head of Animation at Aardman (Nightmare before Christmas, Chicken Run, The Curse of the WereRabbit) and Mathew Rees, Supervising Senior CG Animator.
Based at Aardman's headquarters, the course provides the core practical skills needed to become a professional animator. The majority of the course is practical with participants working on animation exercises to improve their skills, knowledge and experience, which is also supported by animation theory.
When the course was first announced, Mr Price said: "The UK is very much a powerhouse of animation at the moment. Our continued success at Aardman and that of others such as the NFTS means that people are travelling to the UK from all over the world to learn our style of stop frame and CG animation. We'd like to build on that success by developing home-grown talent to work in this exciting entertainment industry."
This success has continued through to today. For example, NFTS Alumni, within the field of Animation, includes Nick Park (creator of Wallace & Gromit), Mark Baker (Peppa Pig, Ben and Holly's Little Kingdom) and Tony Collingwood (The Secret Show).
The success of the Schools' course and the talent of its students speaks for itself, with NFTS students having won over 400 animation awards – including 6 Oscar Nominations, the first animation to win student Oscar, 7 BAFTAs, 8 RTS Awards, 7 official Cannes Selections and a Student Annie Award.
Most recently, a £40,000 Kickstarter campaign was launched to fund a cutting-edge Virtual Reality game – Pixel Ripped 1989 (formerly Pixel Rift) – that was designed and developed by NFTS MA Games student Ana Ribeiro as her graduation project.
Ana created Pixel Ripped as the culmination of her MA in Games Design and Development. During the project's development, she teamed up with NFTS MA Digital Effects student Stef Keegan, who became Pixel Ripped's producer and lead 3D Artist. The demo has already received numerous awards and prizes and was also picked up by the Indiecade competition to be showcased at this year's prestigious E3 global expo in Los Angeles.
Pixel Ripped 1989 is the first in a series of games within games which players experience inside an immersive Virtual Reality environment. It has been described as a nostalgic homage to the history of videogames, transporting the player through the different eras of videogame evolution as seen through the eyes of a young girl growing up with the games that she loves. Set in a 1980's schoolroom, schoolgirl Nicola strives to surreptitiously play and complete her favourite game Pixel Ripped on her favourite 'Gear Girl' handheld game console – all while avoiding the teacher's inquisitive gaze.
Ana Ribeiro said of the project: "Pixel Ripped 1989 is original, mad and packed full of nostalgic, geeky surprises. We have stacks of ideas to make this game much bigger and look fantastic including new polished assets, custom animations and unique character designs. On top of that we plan on expanding the gameplay by cramming the experience with retro mini games and hilarious and geeky Easter eggs. Not to mention some 80's surprises that can't be achieved without a little bit of backing."
This is just the tip of the iceberg when it comes to the talent being created and developed at the NFTS. The future of the UK's Animation scene has never looked so promising.
www.nfts.co.uk
More Jobs & training  Stories