Broadcast News
08/09/2014
Forscene Continues to Evolve Through Forbidden's Partnerships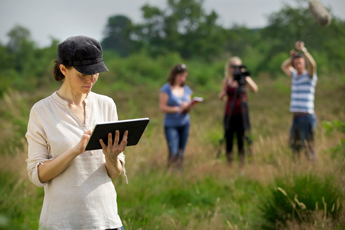 Forscene, which started out a decade ago as an experimental logging tool built on what we now know as 'the cloud', has become the world's most advanced cloud-based video post-production platform, responsible for millions of hours of content being logged, edited, published, hosted, and managed over the past ten years.
Forbidden achieved that level of sophistication and market acceptance for Forscene by paying close attention to how producers, editors, and others involved in the media chain do their jobs; listening for what would make the process easier and more cost-effective; and then making sure Forscene filled those needs. It was an evolutionary process, and over time that experimental tool grew, feature by feature and function by function, into the market-leading cloud platform it is today.
Forscene achieved this level of success not only because of the foresight and skill of its developers, but also because of the strategic partnerships Forbidden has built along the way. Forbidden is always on the lookout for partners whose proven technology will complement Forscene's end-to-end process and make the production process easier for the customer. Those partnerships have led to critical enhancements to Forscene over the years.
Now, as part of Forscene's never-ending progression, there are new partnerships in the works — partnerships that will add transcription services, on-set metadata capture and synchronisation and file transfer enhancements to the Forscene platform.
In an agreement with UK-based Take 1 Transcription, provider of transcription, captioning, and translation services to all of the major production companies, studios, and networks in the U.K. and the U.S., an integration is underway that connects Take 1's transcription capability to Forscene. When the project is complete, Forscene users will be able to access Take 1's service directly from the Forscene interface with the touch of a button. This will eliminate the need to manually prepare and transport large files for transcription, and will enable detailed, timecoded transcripts to be delivered quickly, accelerating the post-production process.
Unlike the usual transcription process, which requires producers to transcode clips, create and transport DVDs, or send files via FTP to a transcription vendor manually, the integration between Take 1 and Forscene will create an automated process. Producers will select the content to be transcribed in Forscene and then click a button to send these proxy files to Take 1. When Take 1 receives the transcription order, they will immediately process it using their highly trained, distributed workforce. Once completed, the transcript will be imported back into Forscene as an XML file so that it gets linked back to the master video in the Forscene cloud.
At that point, production teams can use Forscene to add even more metadata, and can then use Forscene's robust search tools to scan Take 1's transcript and the additional metadata to find just the right clips for their edit.
At the same time, Forbidden is in the midst of another integration that pairs Forscene with the Timecode Buddy system via the MovieSlate iOS application. MovieSlate is the industry standard for production slates, and the Timecode Buddy system lets users reliably and easily generate, sync, and share accurate timecodes and metadata wirelessly over RF or Wi-Fi. The integration brings the three technologies together, filling a gap that helps customers not only capture important metadata in Forscene from the very start of production, but also make sure it is synchronised and searchable throughout the workflow.
The integration will allow production crews that use the MovieSlate app – to add notes and other metadata to specific timecodes whilst on set – to export these notes into Forscene, so that they are automatically linked to the appropriate media and timecode. The process ensures that producers starting work in Forscene already have some basic notes from which to build more detailed logs. All information is present throughout the Forscene workflow as searchable metadata to allow for fast assembly and editing.
A third partnership, with major secure-file-transfer provider FileCatalyst, will complement Forbidden's own upcoming enhancements related to secure, reliable, accelerated transfer of original high-resolution source files. Forscene customers who already rely on FileCatalyst to transfer media will be able to take advantage of their services directly from the Forscene interface.
Partnerships such as the ones with Take 1, Timecode Buddy, and FileCatalyst add new layers of functionality that allow Forscene to fill gaps in the video-making workflow — and allow Forbidden to deliver an ever more robust cloud platform for professional video.
The article is also available to read in
online
.
(IT/JP)
Top Related Stories
Click here for the latest broadcast news stories.