Broadcast News
26/08/2014
Forbidden Integrates Forscene With Timecode Buddy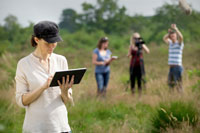 Forbidden Technologies has announced that it has integrated Forscene with Timecode Systems Limited's Timecode Buddy via the MovieSlate iOS application.
MovieSlate is the industry standard for production slates and the Timecode Buddy system lets users reliably and easily generate, sync, and share accurate time codes and metadata wirelessly over RF or Wi-Fi networks. The integration brings the three technologies together to allow people to insert metadata notes and media into a logging and editing system.
"We're always aiming to integrate with proven technologies that help our customers solve their most vexing problems in order to save time and money. This integration fills a gap at the beginning of the production workflow, helping our customers not only capture important metadata in Forscene from the very start of production, but also make sure the metadata is synchronized and searchable throughout the workflow," said Greg Hirst, business development director, Forbidden Technologies plc. "Timecode Buddy is a powerful enhancement to the Forscene platform that makes it possible to import shot notes created on the shoot directly into Forscene in a way that automatically links back to the media — a feature that translates to a faster, more efficient post process."
With the Timecode Sync plugin, MovieSlate users can leverage SMPTE timecode that's synced over Wi-Fi, in real time, from the extremely accurate Timecode Buddy system. This means that MovieSlate notes containing shoot log information reference the same timecode as the media itself. As a result of the Forscene integration, the MovieSlate shoot notes then automatically link back to the media when they're imported into Forscene. This process ensures that producers starting work in Forscene already have some basic notes from which to build more detailed logs. All information is present throughout the Forscene workflow as searchable metadata to allow for fast assembly and editing.
The integration with Forscene is Timecode Buddy's first integration with a cross platform editing solution.
www.forscene.co.uk
www.forbidden.co.uk
(CD/MH)
Top Related Stories
Click here for the latest broadcast news stories.