Broadcast News
22/07/2014
Forscene Powers IBC TV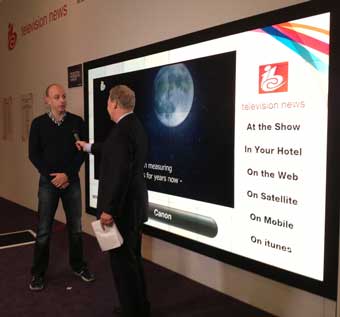 Forbidden Technologies' cloud platform Forscene is to serve as one of the central technologies behind IBC TV's expansion into year-round programming. For the first time, Forscene will play a role in managing video content for the IBC2014 Innovation Awards.
IBC TV will go from broadcasting one 20-minute program per day during the conference to 12 hours of continuous programming each conference day. Forbidden will supply unlimited access to the Forscene cloud and a 20-megabit uplink to a local Forscene server for video uploads during the show.
"We have partnered with IBC TV for the past six years to provide access to news footage during the week of the show, and now IBC TV will get even more value out of that partnership by using Forscene to make show footage available all year long," said Greg Hirst, business development director, Forbidden Technologies plc. "Now anyone who is authorised will be able to use Forscene to tap into IBC TV's wealth of content and reuse it long after IBC is over."
"The idea behind this expansion was to transform IBC from a weeklong event into a year-round resource," said Sue Robinson, producer, IBC TV. "Now we will not only be able to get the content out to more news outlets and encourage more reuse during the show, but after the show as well."
Forscene will also be used to provide remote access to the IBC2014 Awards entries. Awards entrants will upload the hi-res version of their video submission into Forscene over a standard Internet connection using the Web upload option.
IBC representatives across different geographies will then use Forscene to access the entries to perform quality control, administrative review, and content preparation. Forscene will also be used to deliver the original video source of the award entries to a London post house for production of video elements for the awards show.
"Using Forscene to view and transmit video amongst all of the parties involved will greatly streamline the way we manage the nomination materials," said Dick Hobbs, video content manager for the IBC2014 Innovation Awards. "This will eliminate the downtime spent waiting for source video to get from one place to another, simplifying the process and creating a more efficient workflow."
www.forscene.co.uk
www.forbidden.co.uk
(IT/JP)
Top Related Stories
Click here for the latest broadcast news stories.