Broadcast News
06/11/2013
ITV Selects FORscene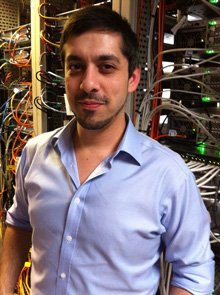 One of the biggest producers and broadcasters in the North, ITV Manchester, has been using FORscene, Forbidden's flagship product and one of the world's most advanced cloud-based video post-production platforms, for over five years. Throughout this time, FORscene has helped to develop new workflows that are specifically designed to improve time and cost efficiencies within post-production.
Current ITV Manchester productions using FORscene include 'Britain's Darkest Taboo,' 'Celebrity Superspa,' 'Poirot and Me,' 'Tonight' and 'Weight-loss Ward.' Forbidden had a chance to meet with Taig McNab, technical manager at ITV Manchester, to discuss how FORscene has been integrated into their workflows.
How does FORscene fit into your post-production workflow?
We implemented FORscene as a way to help filter the amount of content going into the edit. We have large Avid ISIS and Interplay installations, and using FORscene has allowed us to reduce the process of making DVDs and paper logs. Now, we are able to quickly create a way to view rushes and logs, and perform sync pulls from any computer with an Internet connection. The great timesaver is that anything we do in FORscene can be quickly brought back into the Avid environment and seen in the edit. 
Did you have any security concerns about working in the cloud?
ITV implements a number of cloud-based technologies across its business. In this instance, we held many preparatory discussions with the team at Forbidden to ensure security was paramount and have since been pleased with how they handle our content. Knowing that the full-res files are maintained in our storage is key, and we've not had any issues with this in the past.
How was FORscene received by the staff using it?
FORscene is predominantly used by our production staff (loggers, APs, PDs, etc) for logging, sync pulling, and edit prep. We run training sessions for our production teams to keep them aware of what the software can do. We're at the point now where people request FORscene for their productions because they understand the time and cost efficiencies that can be achieved in the edit. 
How much training was required to get your staff up and running with FORscene?
We typically do an internal training session over two to four hours depending on skill level and, for most people who have used other edit systems, that's enough. We have a number of super-users within the business who are always on hand if staff need help while they're using the system.
How long have you been using FORscene now?
Our first system was implemented in 2008. We installed a second system in 2013. 
What improvements have you seen in your workflows, and what is the best thing about working with FORscene?
The biggest improvements are the speed in which production teams can get access to their rushes and start prepping for the edit. Having an automated upload from our ISIS system is very efficient. It's a real timesaver when they get into the suite. 
Are there any features that you would like to see implemented?
It would be great to be able to cache content locally so that we could use FORscene offline. That way people could edit on the train, for example.
ITV Manchester moved to MediaCityUK this year. What were the biggest challenges of the move (from a production perspective)?
We carried out the full move without interrupting any of our production schedules, which can be extremely busy. There was a lot of new technology, workflows and training to do in a very short amount of time whilst continuing to deliver productions to broadcast. 
Did the fact that FORscene is hardware-independent and operates in the cloud make it easier to move without disrupting production of the programmes that use FORscene?
Relocating a business of our scale required meticulous planning, and the physical move had to be very well choreographed.
Hardware independence and cloud-based operation certainly meant there were fewer issues to mitigate.
Has the move to MediaCityUK changed your post-production needs or influenced workflows?
The move to MediaCityUK has offered us a great opportunity to advance how we are able to work. We've installed a very flexible infrastructure that will suit us for many years. Being able to detach from the edit suite and work anywhere you like is certainly part of that. 
"The forward-looking and independent-minded ITV Manchester has been a major user of FORscene since the early days," said Stephen Streater, CEO of Forbidden Technologies.
"Forbidden prides itself on responding to client needs, and our recent jump in available resources is benefiting FORscene's growing Northern client base."
The FORscene video platform provides professional editing tools in a software as a service (SaaS) package for all video industries, including broadcast post-production, news and sports. FORscene takes advantage of cloud computing to enable the centralisation of material and collaboration in workflows.
The ITV workflow is similar to that of broadcast facilities using FORscene across the UK, where the first step is to ingest content into Avid ISIS or EditShare workstations.
The FORscene Server ingest software is given read-only access to the relevant workspaces via a watch folder in the client's resident shared storage. In this way, when content is added to a workspace, FORscene automatically scans the workspace and transcodes the content into the FORscene proprietary codec on a locally connected FORscene Server. At the same time, a proxy of that content is created and uploaded to the FORscene cloud via an IP connection. Users can then log into a FORscene account from any machine, through any browser, and have immediate access to the content.
During logging, FORscene allows the user to import, edit, and add frame-accurate metadata and markers to their media.
When complete, logs can be exported or printed for reference during edit on other nonlinear editing (NLE) systems. Sequence Edit Decision Lists (EDLs) can be exported in a variety of formats compatible with most NLE systems, and will then reference the original source content on the client's local storage.
Allocated users can review clips or sequences and add comments that are directly associated with the source or sequence timecodes.
Visit Forbidden Technologies at BVE North stand E32
www.forscene.co.uk
(IT/CD)
Top Related Stories
Click here for the latest broadcast news stories.